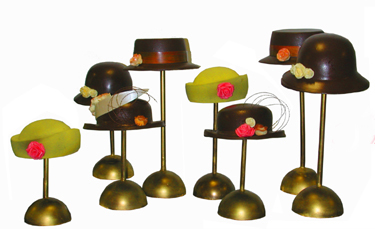 Artisan du chocolat is opening their third store on Westbourne Grove on Thursday, 4th of June this year with a new chocolateria. Renowned for their innovation, Artisan has created a space dedicated to sharing their chocolate obsession.
Expanding on the chocolateria concept successfully launched at Selfridges last November, Artisan on Westbourne Grove will have a seating area with 16 covers. The chocolateria is more than a shop but it is not a café nor a dessert bar. It is a unique concept designed to surprise and delight fine chocolate lovers. On the menu, a whimsical list of chocolate nibbles (from tasting plate of chocolates to hot chocolate fondant, salted caramel chocolate tart, chocolate mousse or fresh fruits dipped in melted chocolate) plays on textures and temperatures alongside Artisan's take on drinking chocolate.
Artisan has collaborated with Nick Strangeway, legendary cocktail bartender to create bespoke chocolate cocktails. Nick has developed a range of alcoholic drinks infusing or distilling spirits such as rum, tequila, vodka and gin with cacao in its purest form to get intense aromas and flavours. The drinks menu at Artisan chocolateria will change according to the season and include martinis, bellinis, Latin drinks, fizzes and sours.
Cacao pulp juice, (made from the pulp that surrounds the cocoa beans inside the pod) is used in a bellini, the fragrant pulp tasting similar to lychees or tart apples. Cupuaçu, a tropical rainforest tree related to cacao and previously unavailable in the UK will also feature. Combined with tonka beans, its pulp is used in a wonderfully aromatic and refreshing margarita. The classic New Orleans fizz is given a twist by using Artisan's own Matcha white drinking chocolate. Thirst-quenching chocolate mojitos will be on the menu throughout the summer, while Latin blended cocktails form a base for Artisan's espresso chocolate and origin chocolate. Finally, for cocktail purists, the Chocolate Martini will be a revelation.
The interior of the chocolateria is contemporary and inviting, created by Belgian architect and designer, Bart Lens of Lens Associates. Brown glass covered vertical shelves will maintain Artisan's fresh chocolates at the right temperature, while the seasonal chocolates will be displayed in white modular units positioned throughout the chocolateria. Splashes of orange on the walls add colour. The focal point of the interior will be the bespoke giant plantation light, curved and white on the outside, the inside features a panoramic picture of a cacao plantation.
Artisan chocolateria will also stock the full and extensive range of chocolates, from the Great British and fusion chocolate bars, couture chocolates, the famous liquid sea salted caramels and the seasonal collections. A mini conche will demonstrate how Artisan make chocolate from ground beans, giving off the irresistible aroma, while in the summer months, outside seating will provide a perfect spot to enjoy chocolate granitas.
Artisan du chocolat, 81 Westbourne Grove, London W2 4UL
www.artisanduchocolat.com
Enquiries: 0845 270 6996
Opening times: Monday to Saturday 11am to 8pm
Sunday 12 to 6pm