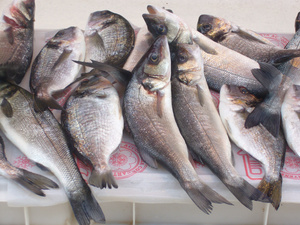 FrancoTraruschio OBE the founder of the legendary Walnut Tree restaurant and exciting young executive chef James Sommerin of the Michelin starred Crown at Whitebrook and winner of the recent BBC 2 great British Menu Welsh heat, will be teaching hands-on cooking at the Chefs'Room, the new fish and cookery school in Blaenavon, South Wales.
The Chefs' Room is new venture for Herefordshire based food writer and cook Lindy Wildsmith and Vin Sullivan, fishmongers and suppliers of high quality fresh produce to the catering industry for over forty years. The Chefs' Room is a state of the art teaching facility next to the fish preparation areas of the remodelled premises.
Lindy has run the G2 Club, setting up and running demonstrations and hands-on cookery lessons on the borders of England and Wales, London, Scotland and Italy for over 10 years. She has a current programme of one day and two day hands on cookery classes and workshops running in Ross-on-Wye.
Each of the school's tutors has a unique approach to cooking and teaching. Dependable Taruschio, in the main making delicious traditional Italian food, never fails to bring a contemporary edge to his repertoire and of course to his lessons. He is an experienced and enthusiastic teacher with a relaxed style that puts everybody at ease.
Sommerin, a 'local boy"; fine tuned his skills in Scotland before returning home several years ago to Wales to secure a Michelin star at the age of 28. His food is creative and quirky; he turns flights of fancy into reality, has fun in the kitchen but has his feet firmly planted in his locality. His enthusiasm is contagious his demeanour serene and confident. His lessons will be innovative, informative and enjoyable.
Over and above the expertise of the tutors, students will benefit from the skills and knowledge of Vin Sullivan's experience as fishmongers. They will learn, with the help of award winning fishmongers to clean, fillet, skin, cut and dress fish and seafood; spot what is fresh and what is not; what is in season and what is not. Learn to identify the different species.
Themes covered at the school will not be limited to fish; the courses will dip onto Sullivan's ample larder which supplies a wide range of high quality fresh produce, poultry, meat, game and wild mushrooms according to season.
There is a retail shop on site where students may purchase all the ingredients they have used during the course to recreate the dishes at home.
Saturday morning hands-on courses with Franco will include; Simple fish skills; Seafood demystified, The gaming table and Perfect parties.
Classes with James Sommerin will include Simple seafood fun; The wow factor – getting creative the Sommerin way, Quirky winter cooking. Hands-on cooking mornings including a tasting lunch are £75.00
From September there will be Tuesday morning classes by Franco or Lindy; themes will include; Wild mushroom magic; Simple suppers, Pasta and four sauces, Cooking for Christmas, These classes will cost £50 and conclude with a tasting lunch.
The Chefs' Room is a unique facility with access to some of the best fresh fish and produce in the country and eventually it is hoped that it will become renowned as a centre of excellence for commercial training for fishmongers and chefs.
Special courses, corporate events and chef training days can be arranged.
Contact Lindy on 01989 562353 or email g2club@hotmail.com for details of courses and or bookings