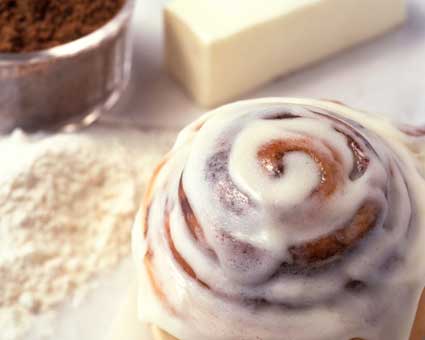 Cinnabon are makers of what they modestly claim are the world's finest cinnamon rolls, made to a unique secret recipe with only the highest quality ingredients are used, including legendary Makara cinnamon sourced from renowned spice-growing regions of West Sumatra, Indonesia.
Janine Hoggins, general manager Cinnabon, says: 'With over 700 Cinnabon cafes operating in more than 30 countries worldwide, we felt now was the right time to bring our mouth-watering cinnamon rolls to a UK audience. We've been overwhelmed by the positive reaction to our cinnamon rolls and hope to expand our network during 2009, so even more people can enjoy them.'
Cinnabon Classic cinnamon rolls consist of moist, light dough wrapped around a rich brown sugar and cinnamon filling, topped with a sweet cream frosting after baking. Each cinnamon roll is created by hand onsite, using dough, filling and frosting that are made from scratch by our specially trained chefs throughout the day, ensuring every cinnamon roll is served oven fresh
within 30 minutes.
Cinnabon's Classic cinnamon rolls can be enjoyed in the relaxing cafes or taken away, either individually or in boxes of four or six to be heated at the customers' leisure. Other varieties available include the Minibon, for the lighter appetite; Caramel Pecanbon; Cinnabon Stix; perfect for dipping in sweet cream frosting and Cinnabon Bites; ideal for sharing. In addition, the Chocobon and limited edition Honey Pecan Twists cater for non-cinnamon lovers.
Prices start from £2.99. Cinnabon Classics are priced at £3.50 each or £10.00 for a pack of four.
Cinnabon stores are currently located in Oxford Street, Trocodero and Queensway Bayswater.
For further information visit www.cinnaworld.co.uk
Free tea or coffee

And here is your printable voucher offering a free tea or coffee with any purchase of a freshly baked Cinnabon cinnamon roll (or Chocobon / Pecanbon varieties). The voucher is redeemable at any one of the three Cinnabon Central London cafes, located in Oxford Street,Trocadero Centre and Queensway Bayswater. Offer valid until end June 2009. Click here to download