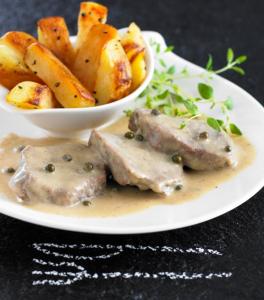 Following my attendance at the launch of Chosen By You, earlier this year, I was invited recently to an Asda lunch – an eight course affair, made up entirely of products from their Extra Special range. As I arrived at the location in London's Soho, I was greeted with a glass of the Extra special 2002 Vintage Champagne, a very nice fresh, sharp wine with delicate soft bubbles, it was a delight to drink.
We sat down to eat a short while later and boards heaving with canapés, a mixture of five products from the range were brought to the table. While we sipped Champagne, we nibbled on olives, sunblushed tomatoes, Parma and Coppa Hams and Felino Salami. These were a great, very tasty opening to the array of flavours and the feast that was to follow.
The delightfully presented courses then began to arrive, their preparation overseen by Asda's head chef. First came the Hebridean Beech Wood Smoked Salmon, with samphire and crème fraiche l'Isigny, the salmon beautifully tasty and set off well by its accompanying Extra Special products. This was served with the 2008 Chablis, which has a grassy, clean, acidic nose and an acidic citrusy tingle on the tongue, a great refreshing dry white wine. Our next course was the King Prawn and Scallop Risotto which was voluptuous, the rice which had retained some bite, was packed with scallop and prawn; the dish had great flavour. This was served with the 2008 Chardonnay which had some nice body to it and a good tang, with some length on the palate. This fuller bodied wine was an excellent partner for the richer fish course.
A lighter Beetroot and Blue Cheese Salad followed, pairing the beetroot with honey and ginger with Cantorel Bleu D'Auvergne, which was lovely and matched nicely with the 2008 New Zealand Pinot Noir, a tangy almost effervescent red that is fruity with a peppery edge to it. On to the pumpkin Bauletto pasta, which had a delicate flavour and was paired with goats cheese that is seriously creamy and married beautifully with the pasta. This was served with a sharp dry acidic 2009 Soave Classico, which was a nice foil to the creaminess of the cheese with the pasta.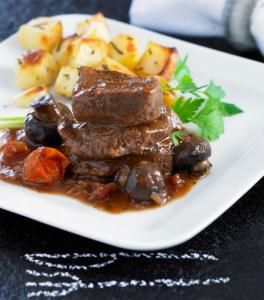 There were still three courses to go and I was getting full, even though they were only serving small portions – but of course, valiantly I carried on. Beef steaks in Chianti sauce, with garlic and Rosemary potatoes was next on the menu. This was a lovely richly flavoured dish, the beef melt in the mouth tender from its slow braising and the potatoes gave a great contrast to the meat in its lovely sauce. Served with the Chianti Classico Riserva, the wine had big fresh red fruit flavours and a tingly tang on the tongue; this was another good pairing of wine with the food. Next up was the selection of desserts. The Timperley rhubarb and sticky ginger sponge trifle, the Tanzanian chocolate tarts and the baked white chocolate and Scottish raspberry cheesecake were all divinely tempting and deliciously indulgent desserts, they were served with a lovely sharp Prosecco, its clean bubbles refreshed the palate perfectly.
We didn't get around to the final cheese course, probably as well, I was very full.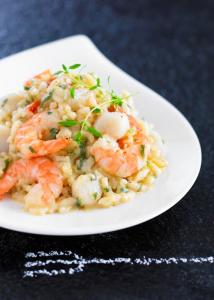 After this event, because I wanted to see how these dishes would turn out in a domestic kitchen, I sampled several of Asda's Extra Special range at home, following the instructions on the packaging to cook. Using the microwave I cooked the slow cooked Seafood Paella, a bit of a contradiction in terms, I know, but it turned out remarkably well. The scallops and prawns remained tender and succulent and the rice was perfect. The Coq au Vin was remarkably good, the boneless chicken thighs nicely tender from their oven cooking and the sauce had big flavour. If I had one criticism here it would be that the sauce was a rather loose, but that is easily remedied with a little cornflour if you prefer your sauces a bit thicker. The beef steaks in green peppercorn and cognac sauce had some nice heat to the creamy, well flavoured sauce and the beef in Chianti sauce was every bit as good as that which I had at the Extra Special lunch. In each of these dishes the beef was very tender indeed. The dishes were well matched with their different potato accompaniments. We also tasted some good strongly flavoured smoked salmon soufflés and lovely scallop, smoked bacon & vintage cheddar pots.
These were all excellent quality dishes – I would hesitate to just call them 'ready meals' – for you to cook at home. They are competitively priced, quite substantial dishes that are easily big enough for two normal appetites. However, I would advise careful selection. If you choose starter and mains dishes that each need oven cooking at different temperatures you could end up waiting 45 minutes between the two courses. So look at preparation instructions when selecting your Extra Special meal. I am very happy to recommend these dishes to anyone wanting a special meal at home without the faff of preparing it for hours. Their instructions are clear and straightforward, try them.
For more information about Asda and their Extra Special range go to www.asda.com