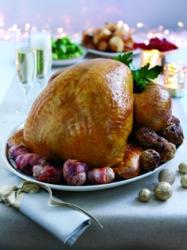 When it comes to Christmas dinner, our thoughts immediately start with the star of the show, the turkey. Which one do we choose? Where do we buy it? When do we buy it? For many of us, getting our Turkey in advance from the freezer cabinet of our local supermarket and storing it in our freezer, helps to spread the cost of the this expensive time of the year. It also means that you are safe in the knowledge that you have it and all you need to do is remember to get it out of the freezer in time to defrost it before cooking. What could be more simple?
The Bernard Matthews farms have gone through some changes in recent years, all of their turkeys are now reared in Norfolk, from the laying of the egg, right through to preparation of the bird and freezing. We understand that even the feed for the birds is grown and produced on the Matthews estate, so concerns that many of us have these days about carbon footprints and food miles, have been reduced for these products. We tasted the Bernard Matthews self basting, golden Norfolk turkey recently and can say that it is a great product, the meat was firm but not dry with a good flavour. The product is widely available and at an RRP of £31.99 for a medium bird, which would feed 8 -10 people, this is a reasonably priced product. Bernard Matthews also produce the golden Norfolk herb basted, and the golden Norfolk Free range turkeys each of which are available from Morrisons supermarkets.
So, if you are looking for a reliable bird for this Christmas, at a reasonable price, it is well worth considering the Bernard Matthews range. You can find out more about the Bernard Matthews range of products and useful tips at www.bernardmatthewsfarms.com – take a look for yourself, the site also contains quite a lot of useful information and tips about preparation, cooking and serving.