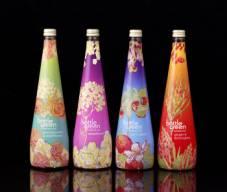 This party season you might want to show some style and turn up with some limited edition bottlegreen presse drinks. Created by up-and-coming textile design talent, undergraduate Rachel Pitman, the range of individually numbered limited edition print sparkling pressé bottles will be making their debut at parties and other celebration occasions this winter.
Stylish and slinky, the vibrant limited edition print sparkling pressé designs show off the essence of bottlegreen's excellent sparkling pressés and will be adorning all four hugely popular sparkling pressé varieties: Elderflower, Ginger & Lemongrass, Cox's Apple and Pomegranate & Elderflower. These sparkling pressés are blended from a selection of quality, natural ingredients, which are mixed with Cotswold spring water to produce a collection of lightly sparkling, drinks. bottlegreen sparkling pressés contain no artificial flavours, colours, sweeteners or preservatives, making them a great healthier alternative to most other soft drinks. Best served on their own, poured over crushed ice, or used as a mixer for spirits, the bottlegreen limited edition sparkling pressé range will leave a distinctive and refreshing impression on your palate.
bottlegreen's limited edition sparkling pressé range will be hitting the shelves in major supermarkets at the beginning of November, priced £2.29 each – same price as usual, but with a vibrant work of art thrown in!
For more information on bottlegreen, you can visit www.bottlegreen.co.uk.