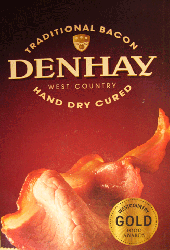 No one today seems to think bacon 'tastes like it used to', although no one quite knows when exactly that time was or even what it tasted like then. Personally I recall 60's and 70's bacon as always having that yucky white dot of bone in it, an addition that my young foodie self would complain vociferously about to any adult within earshot.
What I do remember as being delicious was the rind though. The hard outer edge and the soft inner part next to the meat, an early indication of my soon to be ongoing love affair with pork crackling. I don't think we ever had rindless bacon, perhaps like colour TV it hadn't been invented.
Of course I like a bacon sarny, who doesn't? Even ardent vegetarians can be tempted to surrender when faced with the waft of bacon sarny at 8 a.m. It needs to be decadent in its use of nasty white sliced bread, no ciabattas here thank you very much, and soaked down in Heinz Tomato Sauce (not 'red' sauce, whatever that is).
I also like bacon with pasta and wrapped around prawns and of course, fried for a weekend breakfast. So a sample pack of Denhay Bacon hit the spot perfectly.
Winner of West Country Gold Food Awards, this is really rather good bacon. Hand dry-cured in sea salt in the traditional way it's almost pure pork loin, no creamy unpleasant looking liquids released on frying and no shrinkage either. In fact the only additives are preservative – sodium nitrite and antioxidant – ascorbic acid, both of which are acceptable
We tried smoked streaky, unsmoked back as well as RSPCA Freedom Food marked Spoilt Pig Bacon which is outdoor reared and fully traceable.
They were all very meaty and packed with porcine flavour; proper bacon from pigs reared in a way that is humane for them and happily rather tasty for us. Salt cured doesn't mean salty by the way, in fact the flavour was rounded and delcicate with a lip-smacking after-taste.
I can't recall what bacon used to taste like, but I do know how unpleasant much of what passes for bacon today is. Denhay is head and shoulders above the mainstream, it's a little piggy that deserves to go to market.
Available at Waitrose and Ocado and other main supermarkets as well as online at Denhay Bacon