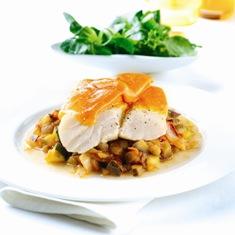 British Cheese Week runs from this Sunday until the 4th October and what better way to mark this than enjoy some lovely cheesy meals!The British Cheese Board website, www.britishcheese.co, has a vault of delicious cheese recipes, from starters, snacks, mains and puddings, to lower fat cheese recipes, as well as a range of cheese pairings that includes cheese and wine, cheese and whisky and even the more unusual pairing of cheese and beer.
For instance, why not try the delicious Sea Bass with Red Leicester or the Farmhouse Cheddar Linguine the recipes for which you can find on our recipe pages. For other recipe ideas visit the British Cheese Board site through the link above.
To mark British Cheese Week, Chelsea restaurant Papillon and South Kensington cheese shop La Cave a Fromage have teamed up to create a six course menu – with every dish featuring a different British cheese.
Head chef Tom Hempstead (Papillon), working with fromagerie Todd Bridge (La Cave a Fromage), have created the menu that takes diners on a tour of some country's finest cheese offerings.
The menu, priced at £48 per head, will be available at Papillon throughout British Cheese Week (26 September-4 October)
.
Leek and Lincolnshire Poacher soup
Lincolnshire Poacher is made from unpasteurised cowÂ's milk cheese in the Lincolnshire Wolds
The taste lies somewhere between French Comte and traditional west country cheddar
***
Caramelized pear and Barkham blue cheese
Endive salad and walnut oil
The Barkham Blue is an award winning cheese made from the milk of Guernsey and Jersey cows
***
Gratin of smoked haddock with Isle of Avalon
Dijon mustard glaze
Isle of Avalon is a washed rind cheese from James AldridgeÂ's farm in Godstone, Surrey
using French milk imported and processed in southern England
***
Fillet of Angus beef with Stilton 'la cave' cheese sauce
Potato rosti and green beans
Stilton 'La Cave' is specially selected cheese from Quenby Hall
***
Selection of British cheeses with walnut and raisin bread
***
Warm pancake with cream cheese, raisin, rum and citrus filling
served with vanilla ice cream
Cerney cheese is produced in Cirencester; it is a very young,
soft and creamy cheese with floral and citrus flavours