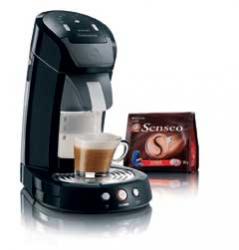 Once upon a time a handsome young copywriter worked on the Philips video recorder advertising account. As the war between VHS and Betamax raged (younger readers may want to Google those names), Philips belatedly came to the conclusion that their own system, V2000, was not going anywhere. Their solution was to convert the tape carrier to VHS but leave the buttons etc still relating to the V2000 format. The result was a recorder that no one could work out how to operate, in fact a recorder which may have been impossible for anyone to operate, and the young copywriter despaired of ever coming up with a concept to sell the rotten thing. And he never did.
Years later, older but still devilishly handsome, that same man is now gazing in some perplexity at the Philips Senseo coffee maker sent round for appraisal. Where does the aerial go? No actually, it's quite simple to set up, the only delay being the removal of all the sticky tape, cardboard inserts and all the other things designed to hold it together in transit and standard on any gadget that has moving parts. Philips, so long a byword for getting it wrong (for example headphone sockets on their audio systems use to be 5 pin DIN plugs) seem to have got this one right
By now other caffeine crazed members of the Foodepedia team are circling the desk like vultures. The cost of coffee here in Carnaby Street is high and shouting loudly 'Do I look like a bloody tourist?' when sold a tiny cup of coffee at an enormous price, doesn't seem to make any difference. The Senseo could change our (working) lives and we are keen to get started.
First it needs a clean/flush cycle to remove all the odours etc inherent in manufacture. Then you fill up the nice large water reservoir and the milk reservoir, add a special coffee 'pod' to the top, close the lid and choose the coffee you want – milky, black, large, one or two etc and press the buttons.
The machine after an initial time to boil, then keeps itself in a state of permanent readiness so that pressing the Go button gets immediate action. With a cheerful hissing and gurgling, hot foamy milk comes out closely followed by twin streams of rich coffee. The machine works on the Gaggia principle of pushing superheated water, almost steam, through the coffee in the sealed compartment to extract every drop of flavour. The base/drip tray has an adjustable height so that small and tall cups can both be accommodated and like a Gaggia, you can fill two cups side by side if you press the right buttons.
The coffee pods have to be the ones officially sanctioned to fit and come in three varieties; Classic Roast, Dark Roast and Decaffeinated and all are made by Douwe Egberts which is a respectable brand. An included recipe book has ideas for all kinds of speciality coffees including French Latte, Latte Macchiato, Cappuccino and many other poncy brews. Right now all we want is a caffe latte, which duly appears.
It looks the part alright; slightly frothy with a darkness underneath the milky top. It tastes, well it tastes a little metallic at first which we wonder may be down to the initial cleaning cycle not being all that effective. As I stand there doing my Barista bit dispensing coffees in all directions, the flavour improves. The water reservoir is surprisingly large and so is the milk store and so it can do quite a few cups before refilling, although you do have to change the pods each time.
The Senseo looks stylish, works efficiently and has lights that tell you when to run the cleaning cycle, descale and wash out plus other helpful automated features. So easy is it to use, and so fast, that I keep making myself cups of coffee every ten minutes and then jabbering wildly at people whilst rushing around the office finding unnecessary things to do. I think it's the caffeine overload causing it, but you never know.
It would look even better in my home kitchen, but I suspect I would be guilty of unfair behaviour if I were to creep off with it. Right now we love it in the office. You can get a pack of 90 coffee pods for about £12 if you shop around, which the calculator on this iMac tells me is something like 13p a cup. That's not bad at all and, perhaps I should not say this, but a web search reveals that rather like ink jet cartridges, an unsanctioned solution is to use refillable pods available in various places online. Right now, I need another coffee. Stet!
Senseo Latte Select machine (rsp £150) is available at Comet, Makro, Costco and Philips online