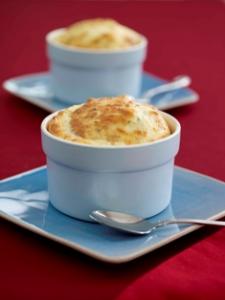 A nice development on the traditional cheese souffle.
Serves 2
Prep 15 minutes, Cook 15 minutes
Ingredients
Knob of butter, melted
30g Parmesan, grated
2 rooster potatoes, peeled and cut in half
4 eggs, separated
50ml semi skimmed milk
50g Gruyere, grated
Handful of chopped chives
Salt and black pepper
Method
1. Pre-heat the oven to 190C/gas mark 5. Brush melted butter around the inside of two large ramekins and coat with grated parmesan.
2. Put the peeled potatoes into a pan of cold water and cook until just tender. Drain and rinse under cold water and leave to dry. When cold enough to handle, grate the potatoes and put to one side.
3. In a large bowl whisk the egg yolks with the milk, add the grated potato, cheese and chives. Season well with salt and pepper.
4. In another large bowl whisk the egg whites until soft peak. Take one large spoonful and combine with the potato and cheese mix, then tip in the remaining egg whites and incorporate.
5. Carefully pour the mixture into the prepared dishes and cook for 15 minutes. Serve immediately.