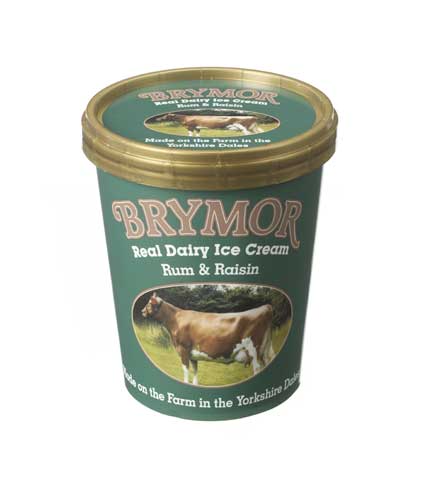 Brymor Ice-cream has introduced an abundance of five great tasting traditional and innovative flavours guaranteed to get your Summer off to a delicious start!
Produced using the finest quality milk from the happy pedigree Guernsey cows down at High Jervaulx Farm who graze on the lush pastures of the Yorkshire Dales, these scrumptious creamy flavours include:
Vanilla – simple and sophisticated, vanilla has always topped the ice cream menu
Clotted Cream – a velvety texture combined with the richness of clotted cream
Rum & Raisin – raisins soaked in Rum gives this classic a real kick
Ginger – creamy and rich with a lingering hint of spicy ginger that definitely ups the intrigue
Mint Choc Chip – refreshing fresh mint taste complemented with mouthfuls of chocolate chip
Strawberry – the fruity sweet taste of summer strawberries
High Jervaulx Farm is one of Britain's few genuine on-farm manufacturers where only the milk produced on the farm is used in the careful production of the ice cream.
 Every day the family cows, who have each been given a special name and treated with kindness, produce over 500 gallons – a great sign of a happy, healthy and contented team!
Established in 1984 by Brian and Brenda Moore who moved their family and cows to High Jervaulx Farm close to the beautiful abbey where Wensleydale cheese was first produced, Brymor ice-cream is very much a 'family affair'.
Now run by their son Rob (head of the herd), a hands-on, quality approach is integral to the stringent production process from sourcing to delivery. This ensures only first class premium ice-cream is produced. So much so, families have been enjoying the unique taste of Brymor ice-cream for decades either by visiting their legendary ice-cream parlour at the Farm or purchasing it direct from retailer stores.
All ice-cream is available in 500ml tubs priced £2.85.
For your nearest retailer visit www.abmoore.co.uk
Cool Facts – How to Get the Perfect Scoop:
• 'Temper' ice cream before you scoop – leave it at room temperature for 8-10 minutes before serving. Return ice-cream to the freezer immediately after it has been served to minimize the formation of ice crystals.
• Serve ice-cream in chilled bowls, preferably glass. Not only is the frosted bowl refreshing to look at, but the ice-cream will retain its shape longer.
• Scooping ice-cream: A variation on a theme. Try this! Have a large Pyrex measuring cup or other heat proof container filled with just boiling water standing by. Dip the metal scoop into the hot water, let it heat up for a moment, and then DRY the scoop on a towel. Quickly drag the hot scoop across the ice cream creating tight rolls of the divine stuff. Do not smash the ice cream with the scoop. Think ribbons, not chunks. Repeat the process for each serving.
• To store opened ice-cream, first place a piece of plastic wrap on the surface and smooth it down lightly with your fingers. Then close the lid securely (use a rubber band if you have to) and return to the depths of your freezer.