The superfood to watch, chia seeds come from an ancient herb originally grown in South America. Relatively unknown in the UK, they contain high levels of plant based Omega 3. Omega 3 fatty acids are essential nutrients the body cannot make itself, so it can be easy to miss them out of your daily diet. Omega 3 is available in several forms, one of which is alpha linolenic acid (ALA), which is found in some plant seeds such as chia.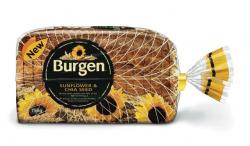 ALA is the perfect natural nutrient to help maintain healthy cholesterol levels, when eaten as part of a well balanced diet low in saturated fat and a healthy lifestyle. Burgen has combined this powerful plant seed with sunflower seeds to produce a great tasting bread with the goodness of seeds.
The newest Burgen loaf is a textural feast. The flavour is mild, but the seeds give it a heartier feel and make it perfect for sandwiches and toasted with soup.
Burgen Sunflower & Chia Seed bread can easily be included in your daily routine and is the perfect addition to your healthy lifestyle. www.burgenbread.com