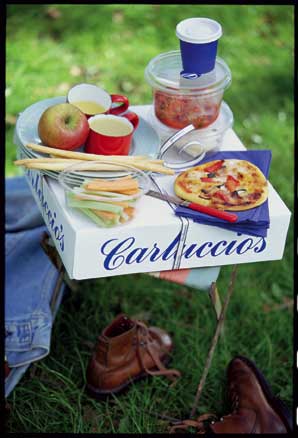 After enjoying months of the great British indoors, watching the leaves fall, the log fires flicker and warming up from the inside-out with hearty British fayre, the summer sunshine is finally on its way. With it comes the picknickers' delight. But with the credit crunch biting and the rolling hills of Italy's Tuscan olive groves an increasingly unaffordable and distant dream, why not bring a little of the Mediterranean lifestyle closer to home?
Whether it's a quick lunch in your local square or an al fresco party in a park, do it in style with one of Carluccio's delicious Italian picnics. Presented in a brand new, beautiful blue, re-usable cool bag, they are also perfect for taking along to one of the UK's numerous summer festivals or outdoor events. Ensuring there's something for everyone, a choice of five picnics will be available, including two for vegetarians and one ideal for junior appetites. Priced from £45 for two hungry adults and £10 for one child, each al fresco feast is bursting with the freshest, seasonal ingredients.
Adult picnics open with a selection of Carluccio's antipasti featuring chilli-stuffed olives, balsamic onions and a ricotta and speck involtini (Italian wrap), followed by a buffalo mozerella and sunblush tomato salad. Main courses feature panfried, breadcrumbed lamb cutlets with lemon alongside chargrilled vegetables and freshly made Italian breads. To finish, indulge in light lemon cake, biscotti and Gorgonzola cheese.
Little ones can enjoy the same high quality Italian food as the grown-ups with their very own dedicated picnic box,serving one, available at just £10. The salame Milanese (cold cut of meat from North Italy), tuna mayonnaise, small vegetarian pizza and beef and aubergine meatballs will prove firm favourites, while creamy Venetian cows' milk cheese, celery and carrot sticks are ideal nutritious snacks. Sweet treats include fresh fruits and a teddy bear shaped chocolate cake.
All picnics will come complete with disposable cutlery, cups and napkins. Adult hampers come with the all-important
bottle of white or red Sicani wine and mineral water, whilst each children's picnic includes a glass of fresh juice.
Carluccio's picnics are available now and throughout the summer whilst the weather holds. A limited number of hampers will be available to pick up from all caffès. To avoid disappointment, please order at least 24 hours in advance. Customers who re-use their cool bag will receive £3 off their next picnic purchase on production of the cool bag.
For your nearest caffè, please visit www.carluccios.com