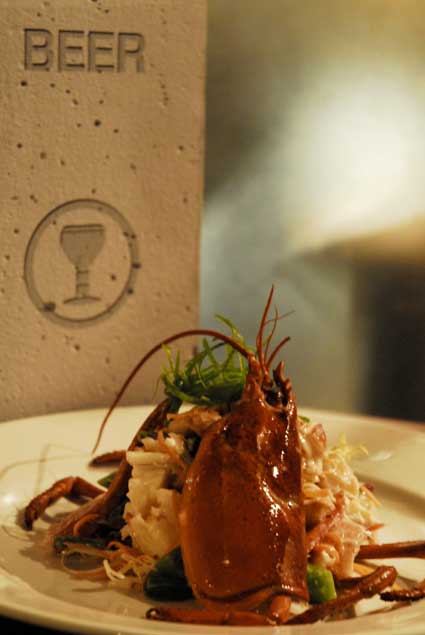 BZZZ.TCHAK.WHIRRR.BLEEP.KERCHUNK. One minute you think you are at a table of cheerful young people about to have a nice meal and suddenly, as the first dishes arrive, everyone but you produces a digital camera of varying size and complexity and starts wildly photographing the food. Welcome to Belgo's Lobster Festival Blogger Evening, to which I seem to have been mistakenly invited.
I do not understand this compulsive blogger need to photograph the food. Good food photography is an art, and often a cheat with paint used for cream (cream goes yellow under studio lights) and washing up liquid to create bubbles in soup. It does the chef no favours to take pictures under bad light and with a bad eye. A picture may be worth a thousand words, but only if it's a good one.
So I am sitting here fork poised unable to dig in because I might hit a camera lens that is poised about a centimetre away from my lobster. All around me the talk is all social networking, new media and of meals eaten all around the world while 'traaaaavelling'. Fingers not occupied with cameras are Twittering furiously. Maybe I should get my coat, I feel like Methuselah's grandfather.
No, I came for the lobster and by golly I am going to get some. Truth be told all the bloggers here are very nice young people; good-looking, intelligent, opinionated, passionate and keen. Makes a change from the tired, fat, cynical old critics you normally find at press type dinners. And that's just me.
Belgo's Lobster fest, now in it's tenth year, promises a good deal, just the sort of thing we need in credit crunch times. 5,000 live lobsters have been pre-ordered by Executive Chef, Muir Picken from Nova Scotia's finest lobster pots for the festival, which will run from 1st to 30th June inclusive, so there's going to be a lot of scuttling in the kitchen. The prices are very reasonable too for this luxury crustacean – around £8 for a starter involving half a 1lb lobster and £17 for a main of whole lobster.
So we dig in – Red Thai Lobster- half a lobster baked with a lightly spiced and nutty red Thai curry sauce is pretty good with the red curry sauce not dominating the lobster too much. That's fine by me, as it seems a shame to ship a live lobster half way across the world only to then douse its subtlety with fire. Lobster Thermidor -half a lobster, grilled with a light cheese, mustard and Orval beer sauce is a more classic way to deal with Mr Pinchy and I prefer it. It brings back memories of early meals taken in old French places in Paris with my parents looking on horrified as their thirteen year old suddenly doubled the night's bill. Lobster Bisque with brandy, cream and chives is not as heavy as expected, nor as overpoweringly 'fishy' as many I have had. It's the cheapest lobster starter at £4.95 and tastes it. Not in a bad way, just that it's a less intense lobster experience.
With all these dishes we've been drinking a rather warm rose wine and an excellent white beer that is poured into faux-frosted glasses. Beer and seafood go well together and Belgo being, as you may have guessed, a bit Belgian has a magnificent selection to choose from. If you aren't sure though the hoodies masquerading as waiters can offer knowledgeable recommendations
A flurry of cameras announces the mains. Grilled whole lobster with garlic and Pernod butter was excellent and the frites/chips/French fries cooked perfectly. Surf & Turf, the same thing but with half a lobster and a 6oz rib eye steak to make up the weight, was not for me. Steak and lobster just seems wrong, It's an American invention of course. The steak was good and the lobster too, but not together on my plate if I have a choice in the matter. In fact the best dish for my money was the Lobster salad with crisp spring onions, green beans and carrots tossed in a light port and lemon dressing. Here the lobster got to be the star of the show and reveal its natural sweetness lifted by the port and lemon, contrasted with the carrots' own sweetness and with some useful crunch from the spring onions and beans.
Belgo has always been busy and this night was so exception, shame the famous lift had broken down. The mix of beer, mussels, beer, ambience and beer has always worked across the chain and with the addition of a sexy lobster menu Belgo should do well this June, even if other places sink to the bottom of the sea.
Some dishes are available exclusively at Belgo Noord and Centraal, contact Belgo for detail.
Belgo Centraal: 50 Earlham Street, Covent Garden, London, WC2H 9LJ (T: 020 7813 2233)
Belgo Noord: 72 Chalk Farm Road, Chalk Farm, London, NW1 8AN (T: 020 7267 0718)
Belgo Clapham: 44 – 48 Clapham High Road, London, SW4 7UR (T: 0207 720 1118)
Belgo Kingsway: 67 Kingsway, Holborn, London, WC2B 6TD (T: 0207 242 7469)
For further information, including menus & opening times, visit www.belgo-restaurants.co.uk