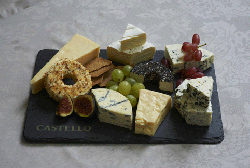 I remember the first time I tasted White Castello® cheese. I was in my early twenties with a glass of sweet wine in my hand and a dream in my heart. It was one of the greatest food memories of my life. Truly. To a young palate, the creamy mildness of White Castello® is like a night in shining armour when other soft cheeses are too piquant and blues are just out of the question.
'It has a squeezable supple exterior with a soft white butteriness running through it. Best served with peaches, nuts, full-bodied white wine and more than a little innuendo, ' advises the Marquis of Castello®.
The Blue Castello® became a gateway cheese as I developed a palate for more complicated flavours. I savoured the hint of blue, and with a date thrown onto the cracker for good measure it was a taste sensation.
'Tongues come to life. Conversation will get more animated, more heated, more divisive – more interesting. Best served with fresh crusty bread, ripe figs, full bodied red wine and healthy dash of debate.'
These days, for me it's all about the blue, the kind of blue that could cure a serious bacterial infection. Luckily for me, Castello® cheeses can provide a cheese for walks of life, bacterial or otherwise. They have something for the most tender palate and can satisfy the more sturdy taste-buds.
Their Danish Blue is brimming with character, as the Marquis so entertainingly regales us with his encounter with the king of cheeses. 'It's commanding on a cracker. Suddenly conversations get fiery. Laughter louder. Wit sharpens. Fists slam. And fingers point. Best served with rye crackers, with quince paste and with lashings of strong opinion.'
For the cheese plate beginner, Castello's® website is abundant with information on what cheeses to put on your next platter and what accompaniments go best with each cheese including wine suggestions.
When asked for the final word on cheese platters, the Marquis replies, 'with cheeseboards, as with life, never be dull. The key is a variety of between three and five cheeses. As a simple rule use one soft, one firm, one blue and one that no one would expect.'