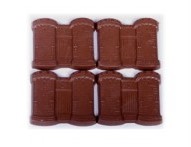 It wasn't long ago that David Hughes hand made his raspberry liqueur chocolates in a small upstairs room in his shop in Caerphilly, Wales. Minutes after the delicacies were ready for sale, they were brought downstairs for lucky visitors. This year, Hughes and his wife Susan moved their company into a 1,100 sq ft unit and increased their number of employees to five. They had to prepare for a large production increase after agreeing to supply forty-three Tesco stores with 12,000 chocolate bars a week. It's the first time Castle Chocolates has agreed to sell their bars in a larger store.
"We are thrilled that Tesco are to stock our chocolates," said David Hughes. ". . .we look forward to a long and successful trading relationship." The deal sees Castle Chocolates supply Tesco stores with their 50g milk, white and plain best Belgian chocolate.
Dave and Susan Hughes formed Castle Chocolates two and a half years ago, following a chance meeting with a Master Chocolatier in Bruges, the "capital" of the chocolate world. Every chocolate is made by hand to Belgian recipes.
"It's great to be working with Dave and Sue Hughes at Castle Chocolates," said Mark Grant, Senior Buying Manager for Wales. "… I am confident our customers are going to love their quality chocolates."
For more information visit www.castlechocolates.co.uk or contact Dave Hughes by calling 029 20 882229 or emailing him at sales@castlechocolates.co.uk.