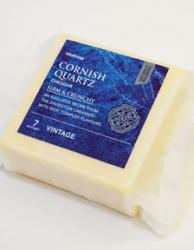 We all love a bit of Waitrose even those of us in postcodes where Waitrose fear to tread. We simply mount an expedition to a more favoured code (SW12 over SW16 for me) and then bring back our goodies under cover of darkness in case the local chavs spot our signs of obvious affluence.
Developed exclusively for Waitrose, by the cheese experts at the Davidstow Creamery in Cornwall, this Cheddar is a modern day classic. Matured for 20 months, it has a rich, complex range of sweet and savoury flavours that are perfectly balanced with a creaminess and flinty, crunchy texture everyone is certain to love.
Cornish Quartz was one of the first Cheddars created with a crunchy texture and it took two years to perfect the balance of texture and taste. Mark Pitts-Tucker, the Davidstow specialist cheese grader comments: "Cornish Quartz has that special crunch which comes from the lactate crystals which are formed naturally during its maturation process. This achieves a flinty ruggedness to Cornish Quartz's texture initially but soon smooths out leaving the mouth with a creamy coating. It has a deep, robust, beautifully well rounded and long lasting flavour which is where the aftertaste comes from."
The famous award winning Davidstow Creamery is proud of its Cornish heritage and supports their local farmers. All the milk that is used to produce Cornish Quartz is supplied by farms in Devon and Cornwall which brings a unique taste into all its cheeses.
Waitrose has recommended a red and white wine to provide the perfect accompaniment to this wonderful Cheddar that can be enjoyed around your Christmas dinner table. For a red wine, try Paul Mas Cabernet Sauvignon 2007 Vin de Pays d'Oc, with ripe black fruit flavours and a finish with hints of smoke and spice. For a white wine, The Chapel Down Bacchus, 2004 Kent, is a characterful English grape that works wonderfully with Cornish Quartz as it is a lovely, crisp wine with distinctive floral aromas.
Both these wines and Cornish Quartz are available at Waitrose stores around the UK. Cornish Quartz is available in packs of 100g, 250g and 350g.