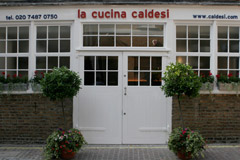 Families all over town are talking in whispers about how worried they are about spending too much money over Christmas. Should we have the party? Can we really afford that bottle of expensive wine? How can we have a nice holiday without breaking the bank? Will we even have a bank next year? La Cucina Caldesi is coming in to save the day with their new "Frugal and Beginners Courses" for worried cooks.
Classes like "The Frugal Supper," "The Frugal Christmas," and "The Frugal Kitchen," will look at ways of cooking and shopping on a budget as well as how to creatively use leftovers. "Cooking Skills" is perfect for beginners and reflects a recent increase in the number of culinary-novices booking courses – perhaps with a view to cutting restaurant expenditure but still being able to eat well. Classes cost between £30 and £100 and include a recipe pack or wine and recipe pack. The beginner's course includes a recipe book and apron with the attractive La Cucina Caldesi logo. A great present for the friend or relative who has decided that it's finally time to learn how to cook.
La Cucina Caldesi is run by Giancarlo and Katie Caldesi, who host classes alongside influential chefs and writers who are all either Italian themselves, or simply passionate about Italy. Tutors include Ghalid Assyb, founder chef of renowned Ottolenghi in Notting Hill, Gennaro Contaldo, Valentina Harris, Ursula Ferrigno, Sophie Grigson, Thane Prince and Franco Taruschio.
La Cucina Caldesi is located at 118 Marylebone Lane, London W1. Reservations can be made by calling 0207 487 0750/6/8 or visit online at www.caldesi.com