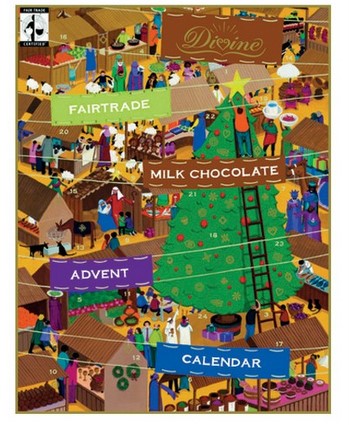 Last year before Easter, Amnesty International expressed concern about the treatment of West African children forced to work on cocoa farms, in spite the world's biggest chocolate companies pledging to eradicate forced child labour from their supply chain. With these sorts of unethical practices behind chocolate production, it makes sense to search out companies certified Fairtrade. Divine Chocolate, a UK Fairtrade chocolate brand, is offering some delightful products this year for you to give friends and family, knowing that a cooperative of 45,000 farmers have been paid fairly and own part of the company.
Christmas 2008 sees the launch of Divine Chocolate's dark- chocolate advent calendar in addition to the milk chocolate calendar they sell every year. Both the dark and milk chocolate calendars feature a scene inspired by the bustling market in Kumasi – the biggest open air market in West Africa – and the story of the nativity. The Christmas tree is decorated with golden Adinkra symbols, the traditional emblems of West Africa. Behind each window is a heart-shaped piece of Divine chocolate. The calendar costs £3.75.
Divine Chocolate also offers gift boxes full of hand-finished treats. The dark, milk & white chocolates are flavoured with pralines, caramels, hazelnuts, mocha and fruit flavours and packaged in boxes decorated with gold West African Adrinkra symbols. The champagne or strawberry milk chocolate truffles are filled with a light champagne or strawberry ganache. Prices for the boxed chocolates range from £9.99-£10.99.
Stocking stuffers can also be found at the Fairtrade company. Choose from 70% dark and milk chocolate mini- bars, milk chocolate gold coins, and mini Christmas puddings. Children might also enjoy the tropical collection of chocolate-covered fruits and nuts. Divine Chocolates are available at Waitrose, Oxfam, Liberty, and The General Trading Company. Visit online at www.ethicalsuperstore.com