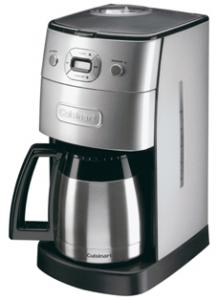 The Cuisinart DGB650BCU Grind and Brew automatic filter coffee maker is a top of the range coffee maker from leading kitchen appliance brand Cuisinart with an inbuilt function that makes your cofffe for you at a pre set time.
The Cuisinart filter coffee maker is different from the other popular coffee machines made by leading brands like Senseo and the George Clooney backed offering from Nescafe, the Nespresso because it relies on fresh coffee beans. To grind the beans in the coffee machine, simply press the button and the machine does all the hard work.
You can use either fresh beans or ground coffee in the Cusinart filter coffee maker, but whichever you choose the whole process is taken care of by the machine. Which is bound to make bleary eyed mornings easier. Because it's fully automated it'll boil the water for you, pass it through the coffee beans that it's just ground and then on through the paperless filter before finally dispensing your freshly brewed coffee ready for you to drink.
And as we found out in the office, the Cuisinart Grind and Brew filter coffee maker is packed full of handy features.
It can produce 10 cups of coffee in just 8 minutes. This feature is great for a dinner party because it means you can serve all your guests their after dinner coffee quickly and all at the same time. And then get them the hell out of your house.
The professional gold tone filter means there's no need for messy filter papers to carry to the bin and it makes the filtering process a lot more efficient too.
And thanks to the double wall insulated jug, coffee made in your Cuisinart coffee maker will stay warm for up to 12 hours.
One of the best things about this particular Cusinart Grind and Brew coffee maker is that you can preset the machine to brew coffee at a designated time. All you have to do is use the preset function, select the time you want your coffee and it'll be ready for when you wake up!
If you want a coffee maker that makes fresh coffee that tastes as good as it smells, grinds fresh beans and requires no effort to use, then the Cuisinart DGB650BCU is well worth investing in.
The Cuisinart DGB650BCU Grind and Brew automatic filter coffee maker is priced at around £125.95.