A particularly noxious Indian takeaway lubricated with copious amounts of cheap cooking oil and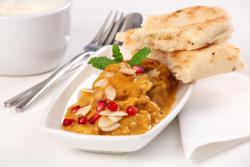 redolent with raw spices left me feeling somewhat dirty and used. Heck, they didn't even throw in a couple of poppadoms. So it was with due trepidation I took delivery of a large box of curry ready meals from Donald Russell– akin, if you will, to Superman handling a polystyrene crate of Kryptonite.
Perhaps marginally less traumatic- by this stage sheer hunger was imbuing me with the courage to face my nemesis afresh. Coupled with the fact I had a dozen naan burning a hole in my kitchen counter, bequeathed to me by the upstart wrapstars at itsWallahWallah, this surely called for a feast.
Volumes like these require an army- as we all know, armies march on their stomachs, and mine are a crack team. Utter the words 'ready meal' though, and the greedy gluttons go all le snob. Time to pull out the big guns- my own kitchen arsenal and a trusty copy of Manju Malhi's 'Classic Indian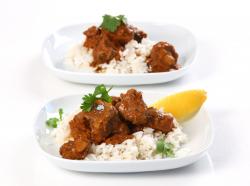 Recipes'. No-one would be any the wiser.
Unpacking the box didn't inspire me with any more confidence. Black containers, plastic film lids- so far, so standard. But as I dished up dahl and stirred a sizzling tarka, a veritable olfactory assault emanated from the microwave- and most pleasing it was too. Curry leaves, roasted cumin, ginger- the primal scents of real scratch cooking, not the idle ignominy of instant.
But a pretty perfume only gets you so far. Looks help- and peeling back the film revealed a rather dishy dish. No smooth gloopy gloop here- these sauces were a bit rough and ready, proudly wearing their whole spices on their sleeves. Decanted into ceramic, with a quick gussy-up of fresh coriander, beef madras and chickens korma and tikka masala were ready for a night on the town- or table.
And so, dinner was served. And so, the hungry crowd was appeased- indeed, delighted. As you'd hope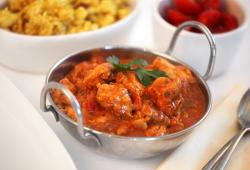 from meat masters Donald Russell, the curries delivered big hunks of top-drawer protein. Chicken was juicy, not woolly; beef melted in the mouth. Naan bread was pressed into heavy service to scrape up satisfying sauces. Troops were dispatched for clean up which, as is the beauty of the ready meal, was minimal. The only leftovers, in fact, were my own back-up dishes. Point proved, and proved well, Donald.
Donald Russell Beef Madras, Chicken Korma, and Chicken Tikka Masala frozen ready meals retail at £4.50- £4.90 for 250g. To order, visit www.donaldrussell.com
Follow @itsWallahWallah on Twitter for details of appearances at markets and festivals
Manju Mahli's Classic Indian Recipes is published by Octopus, RRP £10