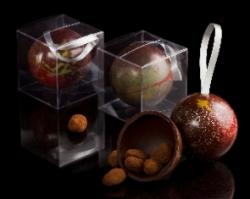 Damian Allsop Chocolates, the avant-garde artisan chocolatiers specialising in water-based chocolates and chocolate creations is a number of Christmas chocolate collections for the festive season, including an exclusive collection featuring distinctive Amano chocolates.The full range of chocolates are available through Damian Allsop's own website www.damianallsop.com, with collections also sold through leading London delicatessens. For more information call 01628 472476.
The Christmas collections includes one created in conjunction with Lahloo Teas, to include three tea flavours (Earl Grey, Jasmine and Lapsang Souchong) and three infusions (basil, mint and thyme) two of each flavour and with the water-based recipe not masking any of the flavours, Damian's excited that the true character of each tea and infusion will come through. The 'Chef's Collection' will be another box of 12 chocolates, two of each flavour, to include gastronomic pairings such as pear and anise and fresh basil.
Finally, for true chocolate aficionados, a limited edition collection of water ganaches has been created using Amano chocolate. Amano is known for its careful selection of the best possible raw ingredients for its chocolate, sourcing from small plantations which give each blend a unique taste. Damian has been blown away by the amazing flavours from this chocolate and using his water-based recipe, he has released their true potential to ensure that they don't lose any of their unique notes. These chocolates will be available through an exclusive Christmas launch at Fortnumand Mason, London.
As stocking-fillers, Damian has launched festive flavours of his 'clouds' – the contemporary take on macaroons – which will be available in blackberry and violet, coated in dark chocolate, and gingerbread, coated in milk chocolate. There will also be hand painted chocolate baubles, filled with peanut gianduja bites.
For more information on Damian Allsop chocolates check his web site above.