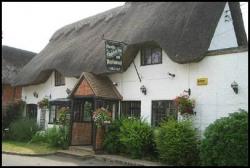 The Old Thatch is a bit of a celebrity in its patch – as one local told me, " it's one of a small handful of places worth going to round here." So what's made this seriously tucked-away village pub survive where others have been converted into super-homes?
'Keeping our heads down" is what owner-manager Andrew Judge attributes it to. That and maintaining 'standards". I'd actually eaten at The Old Thatch about 6 years before. It was ok but the menu lacked any real identity – or personality come to that. With new owner Andrew and Head Chef Richard Willis it now seems to have both in droves.
The menu is primarily English with a slight Mediterranean accent, wearing the 'local' badge with pride. Richard makes his own bread (delicious) as well as ice-cream (the vanilla is spot on). Damsons for the apple and damson sorbet come straight from Andrew's own orchard. Thrillingly for me, staff at The Old Thatch regularly forage for fruit (where do these people find the time?) and this is evident on the menu.
Despite supporting 'local', The Old Thatch and I do however appear to be in agreement that there's also no shame in 'ordering in' (case in point the beef which is couriered from Aberdeenshire and the cheese board with its roots firmly in the South-West). All suppliers are name checked including the locally popular Padbury Meats and, of course, Aylesbury Duck. Fish comes straight from Billingsgate.
My accomplice started with the Rabbit Minestrone which was, it transpired, a culinary 'highlight". Weekend-lunch-skipper here wanted something with a bit more substance and opted for the safe but flavoursome all the same Warm Goats Cheese and Leek Tart.
The Old Thatch has come to be known as a lamb 'specialist' and with this in mind (along with nosing after what was coming out of the kitchen) I then plumped for the Roast Local Rare Breed Lamb. Farmer Ben Thomason from Nash (a few miles down the road) hand-rears these and delivers 2 a week to Andrew. Presumably for the benefit of chavvy Neanderthals, the menu bossily advises against eating with mint sauce (see – personality!) It was generously portioned and tender with a fantastic crisp-skinned edge, served (perhaps surprisingly) with a braised lamb gratin, a little too heavy on the rosemary for my partner, though perfectly balanced for me. Overall the sum was as good as its parts: succulent, classic flavours – and clearly a best-seller.
My partner took a punt on the Roast Red Legged Partridge, Wild Mushroom Ravioli and Cavalo Nero. The woody, garlicky flavours in the ravioli did as you might expect, outshine the partridge but stopped short of overpowering it. The meat was still moist with buttery flavours, partnering well with a nicely seasoned and textured cavalo nero. I don't drink red so a lovely gentleman advised on a fragrant Chilean Sauvignon which by luck more than judgement, given that we'd ordered the booze before the food, actually matched the meat dishes pretty well.
In a rare moment of sweet-toothed enthusiasm, we shared the Almond and Lemon Polenta Cake, as well as the home-made ice-cream. Served with Panna Cotta and English raspberries the portion was, again, food-critic sized but disappointingly dry (I knew we should've gone for the damson sorbet); frankly we were too intrigued by the home-made marmalade ice-cream to whinge.
The next day Andrew and I chatted on the phone about the realities of pub life in Britain. I couldn't help but admire his commitment to what are essentially big restaurant values tucked away in a small village pub: the previous night's service ran to 5 chefs, a porter and plenty at front-of-house. This aint cheap and places like The Old Thatch can't rely on the high street. Reassuring to know then that repeat-business is doing well – although, as with most places, they could always do with a bit of a mid-week push.
To my mind, The Old Thatch is everything a 'gastro-pub' should be: a predominance of local food, brilliantly cooked with great service and a bit of imagination. Plus of course the all-important crackling fireplaces and comfy sofas on which to sit and sip coffees and shorts, putting the world to rights. With twinkling candlelight and many original features retained within a pretty building that dates back to 1702, atmosphere at The Old Thatch is buzzy. I bet it 'does' Christmas really well.
Adstock is just off the A413 between Aylesbury and Buckingham.