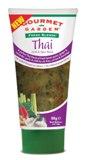 The recent party held by the producers of Gourmet Garden, to promote their range of produce, and to launch four new blends, was held at Maya club just off Oxford Street in Dean Street. Maya occupies, a substantial characterful basement space, decorated predominantly in black with red and gold accents, the club has a kind of decadence that was in stark contrast to the fresh clean flavours of the products that we had been invited along to try.
With a glass of wine in hand I mingled with invited guests and chatted whilst servers brought around canapés made using these new products. Among the tasty treats on offer were tasting spoons filled with fluffy cous cous, flavoured with the Moroccan blend which had a great fresh flavour and gave life to the cous cous. Onion bhajis, made using the Indian blend were excellent and some good spicy meatballs to name just a few of them.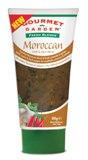 Gourmet Garden products are made in Australia, and I understand meet Australian standards for organic produce, as no herbicides, pesticides or artificial fertilisers are used in growing the crops that make up the products. The difference in this country is that the product must have been grown in these conditions for a longer period before it can be said to be organic and I am told that Gourmet Garden products will meet those time constraints next year.
I have tried some of these products at home and am happy to report that they do add good fresh flavours to your dishes. For example, by simply adding a knob of butter a little salt and pepper and a small squirt of the garlic blend to freshly boiled new potatoes and giving them a shake to distribute the flavour gave them a lovely mild garlicky coating.
For another dish, in cooking some salmon fillet, I sweated a medium sized onion then added a good squirt of the Thai blend to the onions before putting the salmon into the pan, the blend worked well with the fish, giving it a hint of ginger and the freshness of lemongrass and coriander.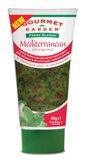 Using the Mediterranean blend with stir-fried vegetables for a side dish on another occasion, gave them a different dimension, lovely flavours of basil and oregano came through supporting the onion, French bean, cauliflower and broccoli in my stir-fry.
I also tried the Mediterranean blend to mix with a little olive oil and drizzle over salad, which I served with cold meats, the dressing made a nice fresh tasting change from mayonnaise or French dressing and complemented all of the constituent parts of the salad, but worked especially well with tomato.
These products added the flavours of the fresh ingredients to each of these dishes for me, they are a good alternative to using fresh herbs, or to have as a standby in the fridge to give a different dimension to your dishes. They hold their freshness for some 90 days after opening or until their best before date. If you would like to know more about the products and their availability go to www.gourmetgarden.com where you can find recipe ideas as well as where you might purchase the products.