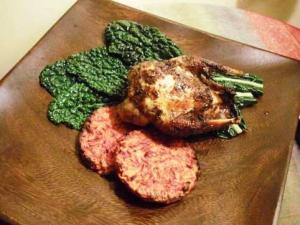 Most people think partridge is for the rich and countrified folk of our great nation. Not so, my friends… Partridge, when in season, is widely available in good supermarkets and butchers alike. It's not as strong and gamey as you would believe and its size means it doesn't take long to cook, so it is perfect for a quick cook meal. Bang in season right now, I thought I would 'spice up' my bird Moroccan style and pair it with some of my other seasonal ingredients like some lovely beetroot and potato cakes, which I made using some freshly grated horseradish root and a side of quickly sautéed 'Cavolo Nero' which is Italian black cabbage, which is delicious and retains is texture and deep green colour. If partridge doesn't quite do it for you, why not try Poussin? Same cooking time works for poussin too, so there is no excuse!
(Serves 2)
Ingredients
2 partridges
4 heaped teaspoons of 'Ras-el-Hanout' spice mix (available from most supermarkets)
2 large uncooked beetroot (or 4 smaller ones)
1 large potato (or 2 small)
1 medium egg
1 heaped tablespoon of freshly grated horseradish (or from a jar, but not creamed)
Cavolo Nero (optional)
Olive oil
Maldon sea salt and pepper to season
Oven paper & aluminium foil
Method
Preheat your oven to 200 degrees. Drizzle your partridges with olive oil and using 2 teaspoons of Ras-el-Hanout per bird, rub the spice mixture and oil well into the bird and leave them for about 10 minutes to allow the spices to permeate and perfume the bird. Don't be afraid to work the rub into the cavity of the bird, then in a preheated pan on a medium-high heat, sear the birds on every side, colouring them a little (don't be afraid if the skin breaks, as it's normal) and once done, turn the pan off and set aside.
Bring a pan of salted water to the boil and par-boil your potatoes (15 mins for large or 10 mins for small) and once cooked, run cold water into the pan to cool the potatoes down and stop them from cooking. Peel your beetroot and grate into a bowl, washing your hands immediately after to prevent 'pink hands'. Once cool, peel potatoes and grate them into the same bowl, add your horseradish and season with a couple of teaspoons of sea salt flakes and some black pepper. Crack your egg into the bowl and mix well using a fork or your hands. Once thoroughly mixed, spoon a heaped tablespoon of the mixture onto a baking tray lined with oven paper, flatten and bake on the top shelf of your oven for 25 minutes or until browned on edges.
At the same time, place your partridges in the oven for 20 minutes on the bottom shelf of your oven. Once done, remove from oven, cover with foil and allow to rest for 5 minutes. If you want to make some Cavolo Nero cabbage, simply wash the quantity you need and add to a pan on a medium-high heat with a little olive oil and a generous seasoning of salt and half a cup of water and sauté it for a few minutes before plating up. Remove your beetroot and potato cakes from the oven and serve with the partridge and some of the delicious juices from the pan in which the partridge was cooked in. The perfect warming meal for a cold and blustery night.