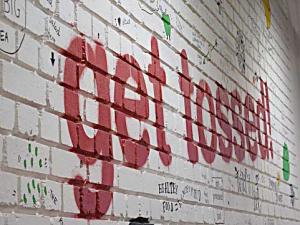 'You don't make friends with salad, Lisa!' Homer Simpson once famously pointed out to his daughter, but it seems for once that the Sage of Springfield may have been wrong. Tossed has not only has made friends with its salads, it's made itself into a major market force.
It's a simple concept; either choose from around 15 ready-made that day salads, or pick your 'base' salad up (medium, large or in wrap) from the self-serve section then go to the counter to add on your choice of the extras from a bogglingly large choice.
At Tossed it's all about healthy-eating being fun and the décor, which either drives you into a mad rage or blisses you out completely depending on your age and taste, reflects that. More puns than you can shake a stick at mix with faux naïve graphics on industrial walls. In one corner of the the Baker Street store is an Astroturf field with picnic tables to eat at. By 1pm queues are forming and the place is getting rammed, meanwhile over in our part of the field I am peering in at my Xmas salad.
It has, deep breath, mixed leaves, turkey, honey glazed carrots and parsnips, sundried cranberries, sage and onion stuffing, chestnuts, cranberry sauce and French dressing. All this contained in a large plastic box that is made from recycled plastic, which will later go off to be recycled all over again. Circle of life, Lisa, circle of life.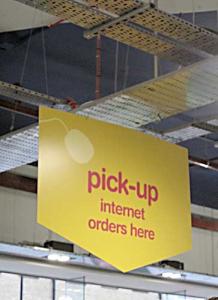 I like the salad leaves, nicely wilted with a punchy but not overpowering dressing. The turkey is moist and tender but there could be more of it and the parsnips and carrots are also well cooked and tasty, but it seems wrong to eat them cold. A bit like going through the bin on Boxing Day. The stuffing is also served cold of course, but I like cold stuffing, as the actress said to the bishop. However these mighty balls would have been nicer if a bit crunchier on the outside and not quite so heavy inside. They certainly fill you up though, there's no denying that. The dish is overall high in protein, very low in saturated fat (0.9 g) and is only 310 calories for the medium size. There's a veggie version too so no one need feel left out.
Also on the Xmas menu is the Christmas Turkey sandwich with baby spinach on low GI granary bread, and the Veggie Crimbo sandwich with French Brie, cranberry sauce and chestnuts. We didn't have those as we were still nursing our heavy balls, (if you think that's dodgy copy then check out the Tossed menu where it refers to the staff as a load of tossers!). We did make room for the Cake and Custard Pot however, which combines Christmas cake with low fat vanilla soya custard and is worth squeezing in because it's delicious.
New Tosseds are opening in the New Year and it's easy to anticipate them all doing well. They prove that salads can be manly and filling and that healthy needn't mean hair shirt. The juices and smoothies are very good, the daily soups and stews are hot and tasty and what's more they even brew a decent double espresso too. Woohoo!