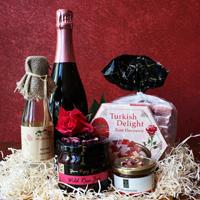 With Christmas approaching, and thoughts turning to sugar plums and spice cakes, cinnamon and candy peel this might be a good time to visit Del'Aziz – the Eastern Mediterranean food shop, deli and boutique bakeries. Del'Aziz has an interesting range of culinary delights and specialist foods, exotic Christmas hampers and luxurious products.
Reflecting the Mediterranean and Eastern tradition of gifts of precious spices, delicious foods and indulgent treats, Del'Aziz have put together a selection of six unusual Christmas hampers using copper pots, hand-painted tagines, straw baskets and ceramic plates, each with a different feel and packed with gastronomic delights.
The 'Taste of Morocco' gift set could be just right for those who love the distinctive flavours of the Middle East. Presented in a traditional tagine pot it's packed with delicious Moroccan specialities including couscous; rose harissa; La Kama spice blend; orange blossom water; dates with almonds; and Guerrouane Rouge Les Trois Domaines (Moroccan red wine).
Starting at a modest £24.50 'Some Like It Hot' may be the gift for chilli lovers', bursting with everything you need for a 'spicy' Christmas, from extra virgin olive oil with chilli; crushed chillies; chilli jam; chilli tea; Taralli with chilli to chocolate chilli almonds.
Perhaps the ideal for foodie friends, the elegant 'Bouquet of Roses' hamper, at £57.50, which includes goodies, including Alain Thienot Champagne Rosé; Mymoune rose water; wild rose jam; rose harissa; Biscuits Roses de Reims; and classic Turkish delight.
Alternatively, create your own bespoke hamper from the array of products available. Choose from the range of Christmas cakes, yuletide logs, mince pies and edible tree decorations, including cookies and meringues, in the boutique bakery. Head to the deli for produce including oils and vinegars, charcuterie and cheeses, herbs and spices, pastas, flours, sauces, chutneys, oils and vinegars as well as honey, conserves, confectionery, dried fruits and nuts, teas, coffees and wines. Or, choose from a range of homeware including hand-blown olive oil decanters, terracotta bowls, ceramic dinner settings and North African lanterns, many designed exclusively for Del'Aziz.
If you are looking for something a little different to give as a gift to a foodie friend a festive hamper or gift from Del'Aziz could be just the thing.
For more information, visit www.delaziz.co.uk.