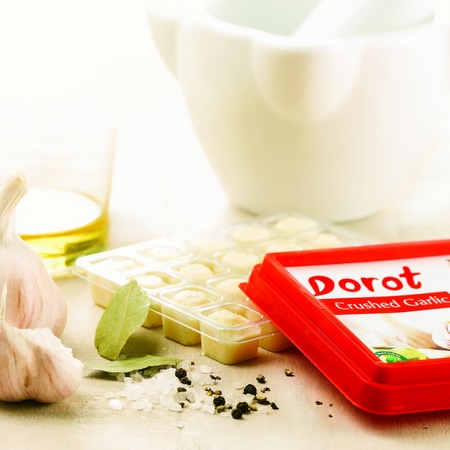 It's hard to find fresh herbs in the winter and when you can, its difficult to use up a full bunch before it wilts or withers, waiting in the refrigerator week after week to be added to the next dish. Peeling and chopping garlic and ginger can be too time-consuming after a hard day at work. But there is such a huge difference between fresh and dried herbs that most cooks feel guilty when they grab the bottle of dried herbs instead. But that's where Dorot comes in. You will be amazed at just how fresh their frozen cubes of herbs taste!
In the wake of the gluttonous Christmas period, it's more important than ever to get a generous intake of the healing properties provided by ginger and garlic. Ginger aids digestion, perfect for festive excesses, while nourishing hangovers by assisting the liver and helping fend off nausea and diarrhoea. Garlic stimulates the kidneys and its antibacterial properties help fight the early signs of colds and chest infections. By making Dorot Garlic & Herbs a regular part of your diet this January, you will receive an energy boost and health kick when you need it most. The frozen Dorot cubes are free from preservatives, food colouring, fats and cholesterol, making them convenience food at its finest. They are available in three flavours, offering the perfect pre-portioned amount of garlic, ginger and coriander to transform a dull dish into something healthy and delicious.
Tracey Hyman, International Sales Manager for Dorot Garlic & Herbs, says: "There are so many simple and exciting recipes for using Dorot cubes, including mouth watering soups, pasta sauces, stews and casseroles…Thanks to the handy cubes, no cutting, crushing or chopping is needed which means no more smelly fingers or mess in the kitchen and a speedier cooking process. We predict Dorot is going to be a huge food trend in 2009."
A pack will last for 24 months so you can simply store it in your freezer and pop out a cube whenever required, preventing the need to regularly buy fresh herbs that past their best in no time. And because the products are frozen, they retain their freshness and full flavour, giving Dorot the benefits of fresh with all the benefits of frozen, providing maximum flavour with minimum effort.