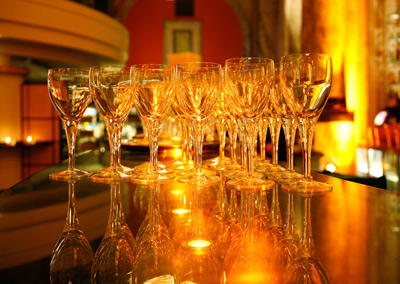 If you feel that Lady Luck has passed you by of late, then why not begin the New Year by heading over to Just Oriental? Always an odds-on favourite, there's now an additional reason to visit Just St James' funky basement sister Lucky Dice Night. Every evening from 5th to 31st January 2009, guests simply need to throw a double six when they order their drinks and their beverages will be on the house. There is no limit to the amount of times you can play or win!
Meanwhile in the ultra glamorous Mayfair eatery itself, a series of unmissable offers are set to make it a very Happy New Year for Just St James' customers.
First up is a superb four-course Pairing Menu that marries Head Chef Damien Pondevie's fine fare with some delectable wines from around the globe.
Each course consists of a choice of two options. Diners can pick from starters that include Highland Venison Terrine with Spiced Pear, Quince and Hazelnut, followed by a second course of perhaps Baked Monkfish Tail, Stornaway Black Pudding and Braised Puy Lentils and a third featuring Highland Venison Haunch, Rosti, Baby Beets, Fig Chutney and Juniper Jus. Rounding off this feast is a duo of desserts: Sticky Toffee Pudding with Vanilla Ice Cream or Caramelised Coxes Apple Mille Feuilles and Honey and Sesame Crackling. The paired wines are Montagny 1'er Cru, Tenterden Wines Bacchus 2006, Cabernet Merlot Stellenbosch 2004 and Ste Croix du Mont 2003.
The price for the Pairing Menu is just £48.00 per person inclusive of wines (125cl tasting glasses).
In addition, Just St James will be doing its best to take the sting out of the credit crunch by reducing the price of its popular weekly set menu from £24.50 to £19.50 for three courses and from £19.50 to £15.50 for two courses.
All the above offers will run from 5th to 31st January 2009.
Just St James, 12 St James's Street, London SW1