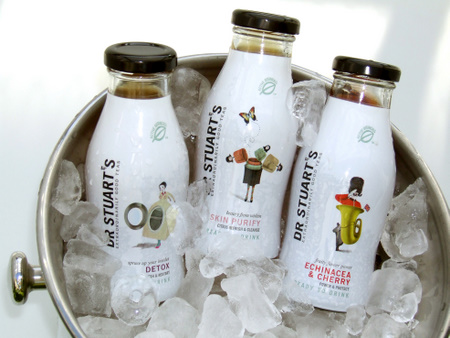 On the move all the time and no time to take a breather? Or maybe you're cut off from the kettle and without the wherewithal to make your usual herbal brew? All you have to do is get your hands on one of the new Dr Stuart's Ready To Drink Herbal Teas and you'll be ready for anything! Dr Stuart has created these new herbal infusions with the same great taste and herbal action packed into a little bottle, ready for you to enjoy anytime, anywhere.
Each bottle is packed with Dr Stuart's trademark 'Active Botanical' herbs. Each bottle contains ten percent active botanical extracts – more than ten times the amount of other herbal drinks – as well as no added sugar and all-natural ingredients. What's more, they're caffeine free too.
Now you can enjoy a Dr Stuart's on the go to detox, beautify and invigorate yourself:
Detox – an effortless way to spruce up your insides. It's a cleansing herbal infusion of liquorice, peppermint, spearmint, dandelion, burdock and milk thistle to help detoxify and revitalise the body. It will refresh and restart you. Perfect for a spot of post-festive detoxing!
Skin Purify – give your skin a treat with this beautifying herbal infusion. It's a cleansing tonic of nectarine, red clover, dandelion, nettle and lemon balm bringing beauty from within. Deliciously citrusy and refreshing!
Echinacea & Cherry – a fortifying combination of cherries and berries enriched with echinacea. Power and protect yourself with cherry, rosehip, hibiscus, blackberry leaf, peppermint and echinacea. It's fruity flower power on the move!
Simply chill, shake, twist off the lid and enjoy anytime, for quick, delicious thirst-quenching refreshment. A natural herbal boost in a bottle, Dr Stuart's Ready To Drink Herbal Teas will leave you ready for anything!
Find them in all good supermarkets and health food stores now priced £1.99p for a 250ml bottle. More details on www.drstuarts.com