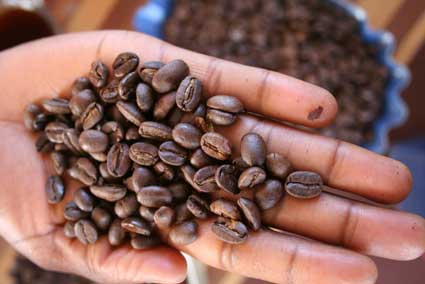 There's nothing better than attending an event that is not only filled with great food and fun entertainment, but where the profits will benefit farmers around the world. Cafédirect's contribution to Fair-Trade fortnight this year is a TasteFair full of fun classes, readings by authors for children and adults, movie screening, and some great entertainment ranging from Quixote and Narration to Vashti Anna and Hador Manor. Centered at Whole Foods in Kensington from Sat 21 February to Sun 01 March, the mix of eco-friendly education, entertainment and good eating is a feel-good event that you do not want to miss. Here is a sampling of some of the offerings. Visit their website for the complete schedule.
Classes for coffee-lovers
Offered several times daily these classes will put a few skills under your belt that might come in handy some day.
Seed to cup
You will see, touch, taste and smell coffee on its journey from seed to cup. There will be coffee seedlings, plants, and beans for you to roast and then taste under Amen's expert supervision. This is a unique opportunity to meet these inspirational people and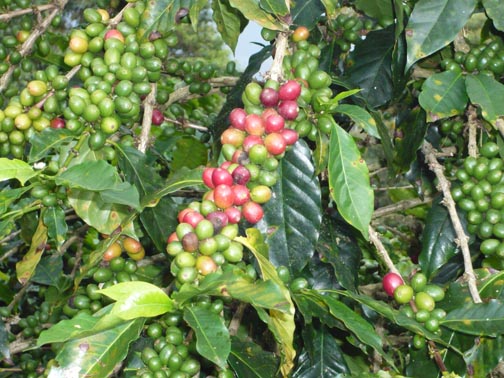 share their passion for coffee. There will be plenty of coffee to go round; take home your own hand roasted beans and enjoy!
Barista Skills
If you are an espresso enthusiast, cappuccino quaffer or latte lover, this session is for you. A professional barista will take you through the science and the art behind the perfect cup; from achieving the perfect espresso to beautifully textured milk. You can then practice what we preach and try it for yourself.
Sustainable living and eating
What's Cooking at River Cottage with Head Chef Tim Maddams
3pm, Sat 21st Feb
This session, hosted by Tim Maddams, Head Chef at River Cottage Canteen, aims to help you become attuned to the seasons, and where your food comes from, both in your shopping and your cooking. Find out what's in season now, and how best to prepare and cook it. Taste a selection of seasonal samples from the River Cottage Canteen, and find out how the man behind the menu first got into food.
Win free tickets to this event! click here
Live Music – An enchanting evening with Vashti Anna and Hadar Manor
7pm-10pm, Sat 21st Feb
Come along to see two acclaimed artists perform their moving and uplifting songs in a unique setting.
Vashti will lead you through her imagination with her poignant songs and soaring vocals. Having recently toured with Tom Baxter and Beth Rowley, Vashti's most recent album "You are free" is receiving rave reviews; "Hearing Vashti is like hearing the birth of a dream, and it's to glorious effect! She is an up and coming diva with a soulfully distinctive tone." Black and White Magazine.
Hadar Manor is an Urbun Gypsy with a voice full of character and beauty. Having appeared on The South Bank Show and recently claiming Capital Radio's "Queen of the Underground" Hadar is soon to release her eagerly awaited debut album "Crossing London" which encapsulates her journeys and experiences from over the seas and around London Town.
Wayne Hemingway on the design industry
7pm, Tue 24th Feb
How does environmental design respond to the current economic landscape – is it possible to achieve 'eco design' on a budget? Do tastes change when the economy changes? What 'looks' should we invest in now, and what lessons do we need to learn? Find out the answers to all these questions and hear some of Wayne's experiences working on the front line of sustainable and affordable housing delivery and more from his wide business and design interests.
Elevenses story time;
with Sally Nicholls
11am, Wed 25th Feb
Sally Nicholls is author of the acclaimed 'Ways to Live Forever' – her first novel – which won the Waterstones Children's Book Prize 2008. 'Ways to Live Forever' is a scrapbook written by eleven year old Sam, who has leukaemia. Aimed at key stage three students (ages 11-13), Sally will host an interactive reading, inspiring young writers to find their creative voice. Her second book, Season of Secrets, is published in April. Find out more at www.sallynicholls.com
Screening of Black Gold hosted by film-maker Nick Francis
7pm, Wed 25th Feb
In a time when everyone is more conscious about ethical and environmental issues, Black Gold opens your eyes to the coffee trade and guarantees you'll never look at your latte or cappuccino in the same way again. Created by British film-makers, Nick and Marc Francis, Black Gold is a film that follows the journey of Tadesse Meskela, General Manager of the Oromia Coffee Farmers Cooperative in Ethiopia, as he travels around the world to find buyers willing to pay a fair price for his coffee. Followed by Q & A session with Nick Francis. Tickets cost £5 and all proceeds will be donated to the Oromia Coffee Farmers Cooperative in Ethiopia.
Eco Chic with Oliver Heath
3pm, Sat 28th Feb
Oliver will discuss his passion for eco interiors – looking at how we can create beautifully designed low impact homes using a balance of technology, nature and vintage. He will focus specifically on why vintage items are important in reducing our environmental impact and how they can add character and personality to the home, investigating a number of creative ideas and demonstrating how to make over a piece of furniture, bringing it back to life for today's homes. Oliver describes his style as Urban Eco Chic, which he has written about in his most recent book (of the same title) and that he has made accessible in his on line eco store www.ecocentric.co.uk
Learn how to grow your own food with Joe Swift
2pm, Sun 01st Mar
This session, hosted by Joe Swift of BBC 2's Gardeners World, takes you through a year on

his allotment. With tips and advice on organic gardening methods and companion planting, Joe will explain how you can grow your own fruit and veg. To find out more visit www.joeswift.co.uk
Live Music – Acoustic sounds of Quixote & Narration
7pm-10pm, Sat 28th Feb
Come along and see hot new bands Quixote and Narration each perform an intimate acoustic set at Cafédirect's TasteFair.
Quixote draw on their dark blues influences and they are painting a refreshingly different musical landscape that's starting to attract industry attention. "Quixote are a genuinely exciting prospect – A breath of fresh air in the smoggy streets of British music" (Live DVD review).
Dan and Si of acclaimed band Narration have returned to the live circuit after ending last year with the rapturously received download-only release 'Not Alone'. "Brilliant… epic, sinister pop," said The Fly, whilst Aloud.com hailed the young Twickenham quartet as "The New Kings of the live circuit", & XFM agreed Narration are "On their way to big things."
Cafédirect Tastefair: Sat 21 February to Sun 01 March Whole Foods Market 63 Kensington High Street West London W8 5SE. Visit online at www.tastefair.co.uk