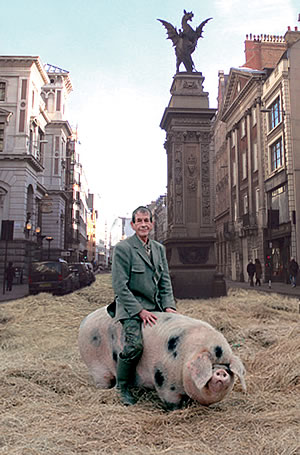 Farm Collective is the brainchild of founders of Craig Wills and Dominic Kamara who have joined forces to spearhead a hot, new food movement. The Farm Collective which opens its first outlet in London's vibrant EC1 this spring delivers farm fresh, premium quality food direct to the capital which has been locally sourced from the nation's finest small farms and suppliers.
Farm Collective creates the recipes for the delicious meals and snacks served daily on the premises. Salads and sandwiches are prepared from scratch every day, giving consumers the ultimate food-on-the-go option: Fast food that is delicious, wholesome and bursting with goodness.
Offerings include an array of delicious hot and cold delights, from delightful salads options to hearty pies with mouth-watering fillings served with the creamiest of mashed potato. The gleaming fridges boast a sandwich selection that is inventive and flavoursome enough to present a serious challenge to most other rival retail outlets. And where great food often comes with an expensive price tag, reassuringly enough, the Farm Collective offerings are as easy on the pocket as they are tantalising to the taste buds.
The extensive menu also includes breakfast sandwich options, fishcakes, pastries, cupcakes and cookies with absolutely no nasty additives.
Farm Collective also sourced the finest coffee for the outlet. Those who seek the finest caffeine experience will not be disappointed for The Square Mile Coffee Roasters packs the requisite punch for any discerning enthusiast.
All items on the Farm Collective menu are available to eat in on the premises or as a take away. They even have factored in a bicycle delivery option within the EC1 – EC4 for those who are tied to their desks. Farm Collective also delivers anywhere within EC1-EC4 and WC1 to consumers who pre-order by 5pm the day before. What's more, orders can be placed via the website.
When the sunshine finally arrives, Farm Collective will assemble gorgeous hampers for alfresco dining in the park, romantic picnics, working lunches or other fun filled activities.
As part of the Farm Collectives 'Provenance Promise', consumers are told exactly where all the tempting ingredients come from, where the livestock was bred and where the vegetables were sewn and grown.
'Farm' plan to continue the search for new suppliers whilst continuously reviving their menu with seasonal varieties of enticing offerings.
[Our cry is to all those passionate producers, UK farmers, growers and food lovers to make contact with us, we want to hear about any great produce that is out there – be it cakes or pies or cheese you found whilst having a weekend away or actual producers who feel we might be able to supply their goods to the workers of Farringdon. The only deal is that everything has to taste great and producers have to meet our criteria to ensure positive farming practice and of course be from the UK. Craig Wills]
The Farm Collective are constantly striving to create a positive link between the city and the countryside and will donate 10% of its profits via the Farm Foundation to CHICKS, an organisation that runs child restbite centres in the West Country.
So what are you waiting for? Indulge your taste buds and give Farm Collective a go, offering honest to goodness grub at guilt free low prices, it's exactly what the nation has been craving – a beacon of hope in the current climate!
The Farm Collective, 91 Cowcross Street, London, EC1M 6BH
[Monday – Friday 7.30-4.30]