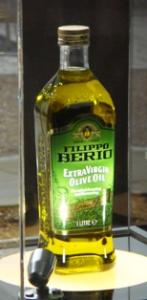 It was on a wet morning earlier this month that I went to Francesco Mazzei's rather lovely restaurant L'Anima for breakfast, all to hear first-hand about Filippo Berio's launch of their new olive oil bottle.
Breakfast at this chic restaurant featured a whole range of canapé style typically breakfast nibbles, including Tuscan ham freshly carved in front of us, crispy pancetta, scrambled eggs on toast with summer truffle, poached salmon with avocado, olive oil cake made with Filippo Berio oil (of course), gianduja cake, raspberry and almond cake and fruit salad (on a stick) all accompanied by tea, coffee, orange juice smoothies and prosecco. Who could complain? This was a very tasty, sociable and sophisticated way to kick-start the day.
All this was the forerunner to the top brass at Filippo Berio unveiling their latest move, the redesign of their classic square olive oil bottle which, we were told, hasn't changed for 143 years. I understand that the changes that have been made are the result of wide consultation and a great deal of work. As well as changing the shape of the bottle, to make it somewhat more stylish and elegant, yet keeping its iconic square shape, Filippo Berio have done some work with the labelling, simplifying it, making the focus entirely on its contents and how it is best used and less about the oil's history of winning awards. These changes are subtle but do give the bottle a more modern feel. The people at Filippo Berio were conscious throughout this process that they wanted to retain the instant recognisability of their product on supermarket shelves and I think they have have succeeded here.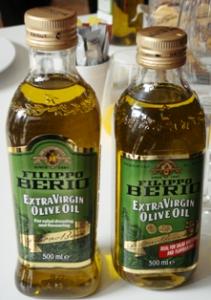 Whilst I was at this breakfast reception for the launch I noticed the display that had been mounted of the Filippo Berio product range, which is huge, including olive oil marinated olives, pestos, balsamic vinegar and more. For more information about their excellent product range and where you can find them as well as recipes and more, visit their site www.filippoberio.co.uk
After the proceedings had drawn to a close, I had a brief chat with Francesco Mazzei, who told me that L'Anima well be closing temporarily soon to facilitate it being extended. Apparently the frontage is being pushed out by some 6 to 8 feet, thereby creating additional space for this popular City restaurant. I left, venturing back into the early summer drizzle, thinking I must visit L'Anima again, once these works are complete, to get another fix of Francesco's food.
The new shaped bottles should be arriving in supermarkets over the coming weeks, so look out for them, as well as the wide range of quality products avaialble from Filippo Berio.