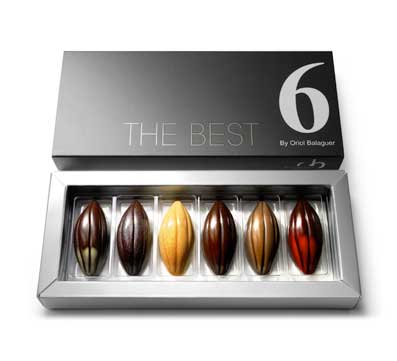 You may never get to eat at what is officially the world's best restaurant, but at least you can try the desserts.Flavours of Spain has added to its range of chocolates with a unique offering from Oriol Balaguer – one of the world's most talented and respected chocolatiers.
Award-winning Balaguer, former pastry chef at Ferran Adrià's Michelin-starred El Bulli restaurant, has selected six of his finest chocolate creations for the exquisite 'The Best 6' – available exclusively in the UK from Flavours of Spain.
Presented in elegant, contemporary packaging, 'The Best 6' includes delicately moulded chocolates infused with olive oil, black truffle, mascleta, yuzu, toasted corn and saffron.
Teresa Holmes, director of Flavours of Spain, says: 'Anyone who appreciates superior chocolate will be blown away by this selection. Each of the chocolates is of the highest quality; made using innovative ingredients to achieve truly unique and inspirational flavours which encapsulate Oriol's passion and creativity.
Balaguer is widely regarded as one of the outstanding chocolatiers of his generation, pushing the boundaries of chocolate making and taking gastronomic sensations to a new level. To be able to offer an exclusive selection of what he considers his finest creations is tremendously exciting, and we are delighted to share these exquisite chocolates with our customers.'
'The Best 6' is available through the Flavours of Spain website, www.flavoursofspain.co.uk, priced at £10.20.
About Flavours of Spain
Flavours of Spain was founded three years ago by a UK-based Spanish/English team who are passionate about the many undiscovered and delicious artisan products Spain has to offer, primarily from Galicia and Northern Spain.
The company's exciting artisan range includes organic figs in chocolate, olive oils, vinegars, olives, nuts, salts and seasonings, limited production wines (including organic and biodynamic), seaweeds and gourmet fish and seafood preserves, such as sea urchin caviar.
All products are made using the highest quality, freshest seasonal ingredients with an emphasis on those produced by small, family run businesses through organic and sustainable farming. Flavours of Spain has been the proud winner of five gold awards at the Great Taste Awards 2007, winning the Best Spanish Speciality category overall. Since September 2008 the company has held a regular stall at London's Borough Market.