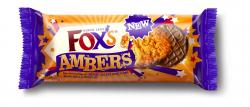 I don't often buy biscuits but when I do (if I'm expecting a builder, plumber or, as my flat is about to go on the market, an estate agent, photographer, EPC measurer and me as a reward for all the decluttering and cleaning) I want a good one – with chocolate on it. And along came Fox's Ambers.
I started with the basic version: made from a secret recipe of a crunchy golden honeycomb biscuit dipped in chocolate. 'Oh good. It's smaller than a Hobnob," my mind thought, justifying the over-indulgence. 'And only 65 calories each!" I heard myself think, making it even easier to do the research, particularly if I can discipline myself to eat only one of each.
Three utterly delicious mouthfuls and it's gone. Better than a Hobnob, definitely. More refined, somehow: far more crunchy, much less oaty, and with the taste of honeycomb coming through despite the generous layer of chocolate on the top. Without thinking (which is how it usually happens) I reached for a second ("It is much smaller," my inner-self stated). Dangerously moreish, two were enough – I needed to test this original flavour against the others: caramel and praline.
I don't know how Fox's has made the different flavours stand out but they do. The caramel biscuit, with the same golden honeycomb base, did not have what I expected – a layer of sticky caramel under the chocolate (thankfully, as that's not what I like). Instead, the biscuit had been baked with caramel in it. Just as crunchy as its simpler sibling, but with added oomph – as I confirmed, crunching through a second (fourth).
And so it was with the praline version, the scent of nuts emphasising the biscuit's distinctive praline flavour and, no, it wasn't imagination, as eating a second (sixth) biscuit confirmed. Very good indeed. Impossible to choose a favourite; they all have their place – for a guilty snack or when a friend drops in for coffee and you want to impress.
It seems hard to believe that we need another chocolate biscuit but, for my money (RRP £1.39) these fill a hunger gap I didn't know existed. Look out for them in supermarkets and independent retailers. Now, I think I need to have my boiler serviced …