Austenwood Lane, Gerrards Cross, Buckinghamshire, SL9 8NL thethreeoaksgx.co.uk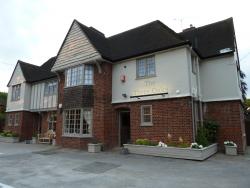 I knew I was getting close to Gerrard's Cross when a Maserati swooshed past, ignoring the speed limit as we bypassed upper-middle England. Only a local would know where the speed traps were – and be well-off enough not to care about the fine.
Turning off this fast road, life slowed down. A father strolled with his young daughter – in the middle of the road. This doesn't happen even in Chiswick, whose residents believe the whole world waits for them. It used to happen almost everywhere when traffic was scarce and life was calmer – as it is now in there's-no-rush-because-I've-made-it Gerrards Cross.
I hadn't quite made it. At the Austenwood Lane T-junction I turned right as it seemed to lead somewhere. Chocolate-boxy houses, a common for doggy walks, a sweeping bend and suddenly the road swept down to Chalfont St Peter. Delightful. Local shops. Smart cars. Billowing banners. But not where I should be.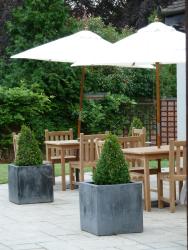 Ten yards left of the T-junction where I turned right was The Three Oaks. Smart, contemporary sign. Jaguar in the car park. Enticing view of tables in the garden. All very top-end casual-chic.
Indoors, instead of mix-matched gastropub décor, each section has been skilfully designed to be unobtrusively atmospheric – just what you'd expect of its owners, Henry and Katherine Cripps, who already have two successful 'posh country bistros" under their designer belts: The White Oak in Cookham and The Greene Oak just outside Windsor.
The sign of a good menu is one which leaves me floundering: ruling something in means ruling everything else out. The Oak's signature chicken liver parfait (£7.50) won just ahead of the goats cheese and chive croquettes (£5.75) being demolished with nods of approval at the next door table. The parfait was smooth, light, rich and gamey, its bitterness softened by a gloriously rich layer of fat around the edge. Buttery brioche, lightly toasted, added crunch; fig chutney brought it alive. The peppered beef carpaccio, and skate and lemon salad, were praised by my fellow diners.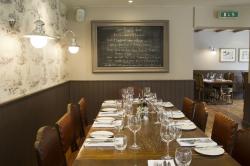 Main course dilemmas included roasted rump of lamb with braised scrag end, creamed spinach gnocchi and mint jus (£16.50); confit duck leg with ham hock and broad bean risotto (£14.90); and slow cooked pork belly stuffed with black pudding (£14.75). The pork fat had been rendered down creating moist, tender flesh, sliced across to incorporate a layer of black pudding. It seems silly to praise the rippled drift of mash but its creamy, full of flavour consistency was perfect for soaking up the intensely rich sauce. If I have any criticism it was that, apart from the wilted spinach, it was under-seasoned: a minor fault, easily rectified. No one tried the 28-day dry-aged British free-range steaks for which all the Oaks are famous. The fat chips (served with the mackerel special) were deemed appropriately crispy outside, fluffy within.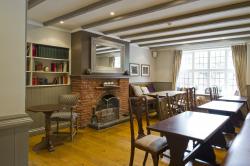 A warm chocolate brownie with vanilla ice cream (£5) and the poached pears with berries created the cleanest pudding plates. My apple and amaretto Bakewell tart (£6) was less Bakewell than expected – a light appley pud with the faintest hint of almond and, oh sorrow, no sticky jam. I'd drop the expectations-raising word 'Bakewell" to eliminate disappointment.
I was driving but allowed myself a sip of the very smooth Argentinian Malbec Archaval-Ferrer (£37), produced by a group including Marcelo Victoria, a former fighter pilot and Oaks regular.
And Three Oaks regulars there already are – the dining room had been full every night since it opened four nights earlier; Sunday lunch brought in crowds. It's closed on Sunday evenings – but open on Christmas Day.
The look here is smart smart-casual. Well-fed, well-dressed, well-off chaps wore no-crease-down-the-arms pink shirts, new jeans, smart belts and just-polished leather shoes. Well-groomed women wore, well, it looked like silk, worn in an understated why-wear-cotton-when-you-can-wear-silk way. Everyone seemed just-showered, not unfresh from the office.
The kitchen is led by Jack Woolner, head chef for all three Oaks whose mentor is Clive Dixon, the youngest chef to achieve a Michelin Star (at Lords of the Manor). An advocate of generous portions and lashings of jus, Jack aims to ensure that every diner wants at least five of the seven-plus mains (he achieved that with me); to change at least two mains a week to keep regulars keen; and not to over-complicate things.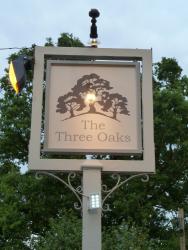 For owner Henry Cripps, pedigree and provenance are important (not just his own – he's the son of a baron with a business history that takes in the Admiral Codrington and running a wine business). Quality is paramount; British is local – if quality isn't available down the road, he doesn't want it.
He's responsive to customers, of course. When Hugh Fearnley-Whittingstall's great fish fight launched, all diners wanted fish; wholesale prices rocketed posing challenges for Henry who told us, 'We're not expensive; we're not cheap, either. But it is always value for money." Which it was.
And, yes, his wife and business partner Katherine is Terry Wogan's daughter.