Gail's Artisan Bakery is getting festive. Their stores are bursting with Christmas inspired cakes, biscuits and breads. But this is no ordinary b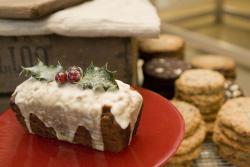 read you see. Gail's began in 2005 when founders Ran Avidan and Tom Molnar decided London needed good bread.
They were not wrong. Good bread is a precious thing and so hard to come by, particularly in the less 'cool' parts of town. With around 100 different types of bread made by hand you are bound to find a loaf to suit your taste at Gail's. A good loaf of bread will complete any meal and with the right butter can be a meal in itself.
With a rye, raisin and caraway loaf and currant and sour cherry sourdough to spice up your morning toast, Gail's is serious about making their bread really special. Everything from the crust to the texture to the balance of spices and fruit was spot on. These loaves were dense and yet not jaw breaking, tasty but not overpowering.
Their Rum & Raisin brownies are moist and very rich without being too sweet. But don't make the mistake of thinking it's a regular brownie, as the appearance of sultanas or any thing other chocolate for that matter could upset some brownie fans. So take care with that one.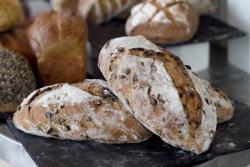 Their gingerbread is really lovely with reindeer, snowflakes and suited men all wrapped up in a celiphane bag complete with red ribbon! The Christmas Loaf Cake comes beautifully presented with perfectly dripped white icing and sugar dusted holly. Packed full of festive spices, sultanas and cranberries this is like a Christmas cake and fruit bread rolled into one.
Gail's also does a range of very special Christmas cakes, including a Cherry & Chocolate Rum Cake, a Gail's Christmas cake and a Buche de Noel of Chocolate & Caramelised Hazelnut.
Find your local Gail's and try out their range today. You will not be disappointed.