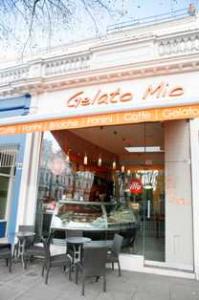 For many of us, when we think of ice cream, our minds associate it with warm (and the occasional hot) summer days and of holidays. There are of course those annoying little vans with their tinkling tunes that suddenly make kids realise how desperately they want – or need – an ice cream, even though it is 9.30 in the morning at the weekend and they might just have eaten their breakfast. Of course, we none of us can be sure what goes into those whipped up creations sold from vans, nor do we know exactly when the ice cream that we buy from our local stores was made, however high end they might be.
We took a trip to Notting Hill to sample the produce at Gelato Mio's recently opened store there. As the name suggests, Gelato Mio's main focus is the production and sale of their house made ice creams and sorbets. However, as well as being an ice cream parlour, Gelato Mio in Notting Hill is a coffee shop, which despite its modest frontage has a huge amount of seating for their customers to relax and enjoy a coffee and biscuits, or a lovely velvety ice cream from their range, or both.
Whilst there we spoke with Carlo Del Mistro co-owner of Gelato Mio, who explained that his ice creams are made only from fresh ingredients, wherever possible locally sourced using authentic Italian recipes and methods, taught to his staff by master ice cream makers from Italy. They do however add seasonal flavours and develop recipes using the ice cream 'bible' to guide their development. For example, we were told that a restaurant recently asked Gelato Mio to produce an ice cream using blue cheese as the main flavour, a challenge that Gelato Mio rose to. They themselves plan to have Guinness and Baileys ice creams in their shops to celebrate St Patrick's Day and will produce a range using wines in the autumn.
Carlo explained that ice cream should be eaten within 5 days of it having been made to be at its best, so none of the ice cream in his shops are older than that. He invited us to sample his range of some 20 ice creams and sorbets, including a divinely smooth and full flavoured vanilla, a wonderfully fruity strawberry, rich tasting pistachio, a lovely hazelnut/chocolate Bacio, a rich coffee that tasted like creamy freshly brewed ground coffee, an amazingly strong and rich chocolate and more. It was difficult to choose one from this luscious range to have a full scoop from, so I chose a tub with three flavours, well, do you blame me? These were: Arancia, made with ripe orange, Limone, lemon, of course and Ace, made from orange, carrot and lemon. The flavours in each of the Gelato Mio range that we tasted, came through so vibrantly and the texture was beautifully smooth and velvety, they were a delight both in the mouth and on the palate and at a cost of £2.50 for a generous scoop they are a wonderful and affordable treat, whatever the weather. We liked them – a lot!
For more information about Gelato Mio, go to www.gelatomio.co.uk where you can find out more about the product range and details of how to find the stores, though you should be aware that it does still refer to a Villiers Street store which is no longer there.
Gelato Mio, 37 Pembridge Road, London, W11 3HG and 138 Holland Park Avenue, London, W11 4UE