'Chocolate?' asks the Kitchen Nazi incredulously, turning up his nose as he picks around the offending chunks,'What's chocolate doing in the Bombay mix?' Well, first of all, mate, you've made a geographical error- this is Delhi mix. Secondly-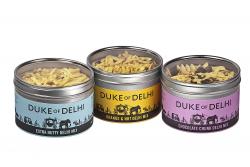 have you tried it? Apparently yes, and despite protestations about the wrongness of the pairing, I notice my precious tin depleting at an alarming rate.'Still checking you don't like it?' I ask, catching him tipping the last few crumbs into his gob.
Luckily he doesn't know about my secret stash- the Orange and Nut and Honeycomb varieties that make up Duke of Delhi's delightful tiffin triumvirate.'Khatta-meetha'- sour and sweet- is a much loved flavour combo in all manner of snack-y Indian chaat dishes, and the intense savour of the snack mix is no less worthy a pairing for those novel sweet inclusions. Flecks of bright green coriander, nuts and myriad crisp morsels come together in an adventurous agglomeration that certainly floats my boat.
Despite the grandiose title, Duke of Delhi is a humble operation, dreamt up by a brother-and-sister team as an edible allegory evoking India's street food culture and childhood treats from their Granny. Innovative semolina biscuits flavoured with Lemon, Chilli & Seeds or Cardamom, Clove & Vanilla are inspired by classic nankhatai, whilst the Delhi mix has its root in that train station favourite snackerel, chevdo.
Ingredients may be thoroughly British, but Duke of Delhi is also admirably committed to giving back to the country which set the company wheels in motion. A nostalgic love for seeing elephants roaming wild teamed with a chance encounter with a group of the magnificent beasties sporting rainbow hues in central London led to a noble pledge- 7% of all profits donated to the Elephant Family charity. Tastes good, does good- it's really a no brainer. Just go easy- the object is to help the elephants, not grow as large as one.
View the full range online at www.dukeofdelhi.com and follow @dukeofdelhi on Twitter for updates and offers.