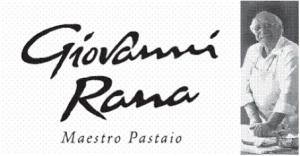 Giovanni Rana is Italy's number 1 pasta brand which is quite an accolade given the Italian's discerning taste buds and their predilection for authentic home cooked food.
The good news for us plebeian Brits is that they've just launched a brand new range which includes fresh filled pasta inspired by Giovanni Rana's restaurant in Verona. The Trattoria product line is a selection of large, filled ravioli that comes in 4 chic sounding flavours. But whatever you do, don't call it Totellini!
Trattoria pasta is available in the following recipes; Tomato & Mozzerella, Porcini Mushroom, Blend of Aromatic Cheeses and Goats Cheese and Caramelised Onion.
The Trattoria's larger size compared with a standard ravioli means that each pasta shape has more filling inside it. What's more when you cut them open you can actually see the different components of the recipe; the chunks of mozzarella, the slices of porcini mushroom as opposed to just seeing the pool of 'mystery mush' often found inside the cheaper pastas.
Each pack of Trattoria contains 12 ravioli pieces which is substantial enough to serve as a main for 2 or as a starter for 4. Best served the Italian way with melted butter and parmesan cheese, the quality of the product shines through from the first bite to the last.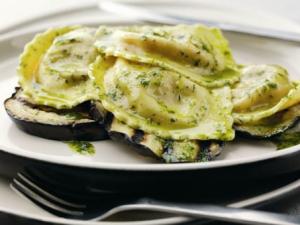 At this stage I feel I should come clean about how I ate mine. I worked my way through a single pack of the porcini mushroom variety over two days once for lunch and once for 'dinner'. I say dinner but that's not strictly true, unless you can call eating a bowl of steaming hot ravioli at 12pm whilst watching Big Brother dinner. I don't think you can, I think the word deserves a bit more than that.
I'd been busy drinking cognac mojitos, as you do on a Thursday night, and arrived home feeling more than a little peckish. In my slightly tipsy haze the lure of something which would be ready in 4 minutes was pure serendipity. As the pasta cooked I crumbled the remains of some goats cheese I'd found in the fridge, getting my fingers coated in the creamy cheese as I went along. I left the chalky crumbs on the chopping board, drained the pasta, poured olive oil on it and sprinkled the cheese on top. As I watched the desperate egomaniac housemates/virtual pets flounce around in the Big Brother house I tucked into my wholesome tasting Trattoria and was grateful that I hadn't caved in and bought anything greasy on the way home.
When I ate the Trattoria for lunch the previous day I'd paid the meal more attention serving it with pesto, a few rocket leaves and a healthy grinding of black pepper (from a giant oversized pepper mill of course). It was filling enough to keep me going until evening but not so heavy that it made me feel sluggish. The porcini mushroom was smooth and earthy with a satisfying salty savoriness that hit the spot.
The Trattoria range is available from Asda, Sainsbury's and selected delis, priced at £2.10.
For some recipe inspiration see below for instructions on how to make Giovanni Rana Trattoria Mushroom Ravioli with Pancetta.
GIOVANNI RANA TRATTORIA PORCINI MUSHROOM RAVIOLI WITH PANCETTA
Serves 4
2 packs Giovanni Rana Trattoria Porcini Mushroom Ravioli
125g pancetta or speck if available
10g butter
150ml single cream
1 tsp fresh oregano leaves or ¼ tsp dried oregano
Salt and pepper
To serve:
Freshly grated Parmesan cheese
Cut the pancetta (or speck) into thin strips.
Heat the butter in a medium frying pan, add the pancetta and cook over a medium high heat 4-5 minutes until browned and beginning to crisp. Add the cream and oregano and allow to simmer until thickened, season.
Meanwhile, in a large pan, bring to the boil plenty of water with some salt. When the water is boiling, add the Giovanni Rana Trattoria Porcini Mushroom Ravioli to the pan and cook for 4 minutes. Drain, and toss together with the bacon sauce.
Serve with grated Parmesan cheese.