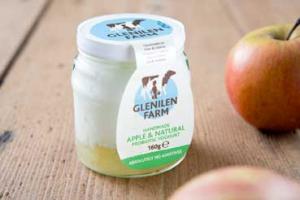 Glenilen Farm, based in the heart of West Cork, Ireland, makes authentic tasting dairy desserts and products 'tasting just like they used to" and now, a selection of these products are available exclusively in the UK at Selfridges Oxford Street.
The range includes nine fruit yoghurts, six cheesecakes, two fruit mousses and a farmhouse butter, made in traditional butter churns from sweet, lightly sea salted cream, wrapped in traditional parchment paper, brown paper and twine.
Alan and Valerie Kingston let their cows roam and graze freely, pamper them during the cold winter months and never over milk them. All this tender loving care in turn produces the creamiest, richest and most delicious milk. What started as a hobby in 1997 has transformed the small farm into a hive of activity today.
Prices range between £1.49 for 160g yoghurt pot to £5.99 for a 700g handmade cheesecake