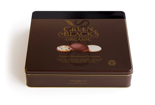 Green & Black's, the luxury chocolate and biscuit maker, has launched its deliciously indulgent Organic Shortbread Collection for Christmas – its seasonal range of luxury gifts and treats.
At Green & Black's, the biscuits are made with simple, organic ingredients slowly baked to develop a traditional shortbread texture and rich buttery taste. The taste is then enriched with the distinctive Green & Black's bittersweet Dark 70% chocolate – creating the finest shortbread flavours of the utmost quality.
For lovers of the exquisite Green & Black's taste, there is a choice of two products in this year's festive collection, both appealing to all tastes and Christmas occasions.

The Organic Shortbread Selection consists of chocolate chip, fully coated and half coated all butter shortbread, creating a sumptuous and truly extravagant biscuit treat to share with family and friends.
Whilst those looking for a discerning gift or stylish stocking filler will love the Traditional Organic Shortbread Tube, filled with deliciously buttery shortbread biscuits and, again, coated with Green & Black's distinguished bittersweet Dark 70% chocolate.
Green & Black's believe that every step from bean to biscuit is equally important. It uses the finest organically grown cocoa beans, taking extra time and care to bring out the intense and exquisite flavour of the dark chocolate which has become the brand's trademark.
Organic Shortbread Tube 200g – RRP £4.99
Organic Shortbread Selection Tin 450g – RRP £9.99