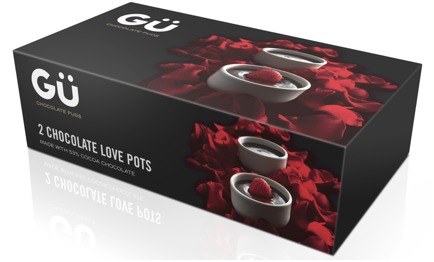 Show some sticky love for each other on Valentine's Day with Gü Chocolate Puds.
It's traditionally the day on which lovers express their feelings by sending cards, flowers and Gü.The Gü gürüs have spent lots of time in their lüv lab to create the NÜ, extremely chocolatey, Love Pots.Made with 53% cocoa chocolate, whipping cream and a whole lotta lovin', velvety smooth and creamy Gü Love Pots will melt every heart.
Served in elegant individual white ceramic dishes, these little pots of loveliness can be taken direct from the fridge and on to the table for immediate güzzling. Alternatively pop the pots into the microwave then get out your früity bits (strawberries, we mean) and dunk straight in.
Gü Chocolate Love Pots are available from December 2008 to February 2009 in Sainsbury's, Waitrose, Booths and Ocado, priced at £2.99 for 2 x gü-ey 90g pots.
And there's more.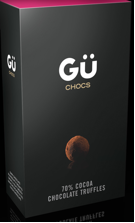 Wü the one u lüv on Valentine's Day with a box of NÜ Gü Chocs. Guaranteed to out dü even the biggest bunch of roses, NÜ Gü Liquid Caramel Chocs and Gü 70% Cocoa Chocolate Truffles are offered up in super stylish gift boxes. No further wrapping required.
Gü Liquid Caramel Chocs have a lush, liquid güey caramel centre with just a hint of sea salt, encased in delicate 70% cocoa dark chocolate.
If your lüver likes it dark and rich opt for GÏ‹ 70% Cocoa Chocolate Truffles – 70% cocoa chocolate filled with a silky smooth, decadent chocolate ganache.
Gü Chocs are available from Waitrose and Tesco, priced at £3.49 for a 110g box.
If ü can't be with the one ü lüv,
then lüv a pot of Gü