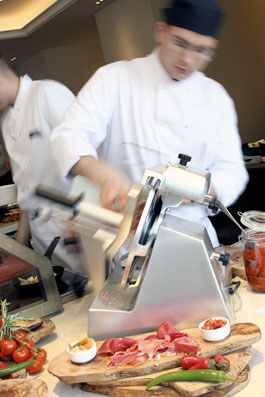 Cookbook Cafe at the InterContinental London Park Lane has announced a new reason to enjoy the weekend with the addition of Saturday brunch.
Traditionally an adult affair, with unlimited Champagne and Bellinis,children can now join in the fun by getting involved at the Mad Hatter¹s Tea Party on Saturday 17th January from 12pm to 4pm, the first collaboration between InterContinental London Park Lane and Cookie Crumbles. The Mini Chefsessions will teach children to create topsy turvy fun food such as upsidedown carrot cake, gingerbread men and marbled magic balls all to take home in goody bags. For mucky pups aprons will be provided!
Cookie Crumbles provides a wide range of cooking activities for children and teenagers from 4 – 18 year olds. Since 1994, they have taught over 10,000children to cook and are renowned for providing hands-on cooking parties and cookery workshops. Cookie Crumbles is run by former food& drink editor of Family Circle Magazine, Carola Weymouth, a Paris-trained chef and former patissier. and mum to two cooking-mad daughters.
Saturday Brunch costs £39 per adult and £14 per child (4yrs 14yrs) and includes unlimited Champagne, Bellinis and Cookbook signature Bloody Marys, as well as all Cookie Crumbles ingredients, recipes and goody bags. Bookingis recommended 020 7318 8563 or www.cookbookcafe.co.uk
The Saturday Brunch Menu includes:
Cold market table

Daily prepared salads, cold fish and charcuterie items primarily from the
British Isles include: roasted candy beetroot with Wealdway goats cheese,
honey-roasted gammon ham with homemade mustard piccalilli, rare-cooked
sirloin of beef with fresh horseradish and sashimi tuna with soy dressing
and popped rice.
Cooking station
As well as freshly prepared eggs any style or waffles and pancakes with
maple syrup, chocolate sauce, berry compote or clotted cream, main courses
will be served in a Tapas style and include:
Sea bream on parsley mash with lemon butter, duck breast on stir fried
vegetables and noodles, spiced cauliflower and butternut tagine with almonds
and coriander, grilled bavette steak with béarnaise, chicken satay with
peanut sauce and rice.
Pastry Workshop
Homemade pastries and desserts include: Nutmeg baked egg custard, chocolate
torte with black cherries, strawberry vacherins, coffee ³Profiter roles²
with mocha cream, lemon meringue tarts with raspberry sauce, tropical fruit
salad, British and Irish cheeses with homemade chutneys and relishes.