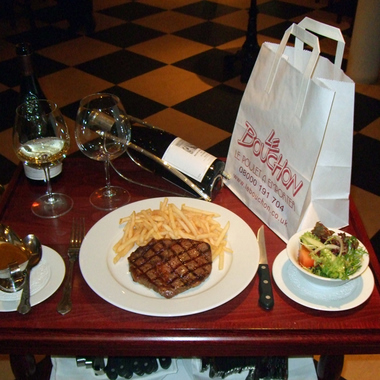 Families are spending a bit more time this winter shopping for good deals on groceries and dining at home. To accommodate the new trend, Nicolas Laridan, Le Bouchon Breton Head Chef, has devised some delightful take away selections. And to introduce the new "Emporter Menu", orders over £50.00 receive a 20 percent discount. Why not invite some friends over and enjoy a luxury meal together without having to spend so much time cooking and cleaning up the pots and pans?
Dishes on the new take away menu from Le Bouchon at the Old Spitalfields Market include starters ranging from a selection of terrines and charcuterie, to delicate Fish and shellfish bisques, Langoustines, lobster and tiger prawns with mayonnaise, Seafood tagliatelle, Smoked salmon and a selection of hearty French sandwiches.
Main courses include comforting, free range roast chicken "Poulet de Lande" with gratin dauphinouse, buttery garlic infused green beans and rich chicken jus, Ox cheeks braised in red wine, Choucroute. On the menu you will also find a selection of Limousin, Charloais and Black Angus steaks including fillet and ribeye cut to three sizes with French Fries and pepper sauce.
Their take-away roast chicken is free range corn fed and cooked upon order. All beef is a cross of Scottish Black Angus, Charolais and Limousin breeds from a single herd. The herd is fed solely on Lancashire grass and hung on the bone for no less than 28 days. And don't forget to order a stylish finishing course-a spot of delectable cheese from the infamous Breton cheese trolley or rich Chocolate mousse. Breton's Sommelier, Francois Bertrand, has selected a handful of suitable red and white wines from his Breton Carte alongside a selection of beer and cider to go with the new menu.
Be it a lavish lunch at your desk, the perfect interlude to any board meeting, directors' lunches or the effort-free supper with family and friends, the Emporter menu from Le Bouchon Breton gives you the best of both worlds. Visit online at www.lebouchon.co.uk or call 08000 191 704 to place your order.