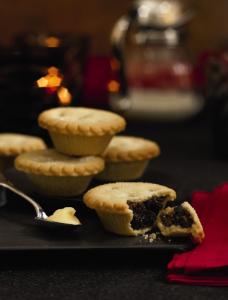 As one of the country's leading departmental stores, with food halls that are hard to walk around without drooling, it seemed only right that we should select a few of Harrods' luxury goodies to sample for you on the run up to Christmas.
With so many different products to choose from, going for tradition was the only way and it must be said these are excellent luxury products to spoil your family with during the indulgent festive season. As we opened our bag of goodies, it was hard to resist tearing open the boxes and tucking in straight away, but of course decorum prevailed.
The first product we sampled was the Harrods mince pies with apricot and Marc De Champagne; these are fairly substantial little pies, beautifully presented in their box, the buttery sweet pastry shell has a biscuit-like texture that feels great as you bite into it. The pies are filled to capacity; you could hardly squeeze another currant into any of them. The rich fruity mincemeat has a lovely spiciness to it that is enhanced by the Marc De Champagne, a brandy that is produced as a by-product of Champagne production. These are excellent little pies, which would be a great addition to your Christmas dessert or just as a treat during one, or all, of the festive days. Retailing at £7.95 for a box of six, weighing 372g, these are pretty special little pies, and a joy to eat.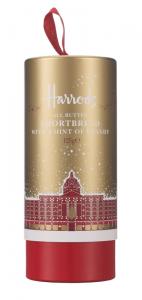 We next tried the Harrods all butter Shortbread, with a hint of brandy and I have to say it's everything you could want from a biscuit, a nice dull thud of a snap as you break it in half, a little resistance to the teeth as you bite, before breaking down in the mouth to a buttery crumble, releasing the brandy flavour. These are really lovely biscuits, and would be great to nibble on with your cup of tea or coffee on Christmas morning or at any time over the period. Retailing at £4.95 for a 125g pack, they are an indulgence we could all afford, they are nicely packaged so might also make a nice little gift to put in a loved one's Christmas stocking, or to hang on the tree for them.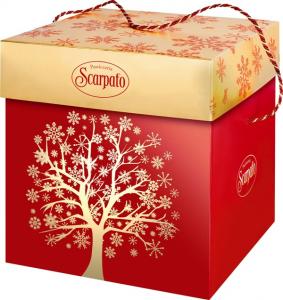 The Scarpato Panettone Classico is presented in a very festive box and would make a great gift for a foodie person, if you were looking for something a bit different. As you take it out of its box you can see that it's baked to a rich bronze colour, you open the packaging and a great fresh fruity smell rises to your nose, big sweet citrus smells in particular, and a touch of vanilla warmth. Cut into, it has an exceptionally light texture, soft and yielding. In the mouth, despite its light texture it's rich with flavour, citrus fruits come through well and are supported by raisins and sultanas in this buttery confection and there is just a hint of vanilla and spices, it all but melts in the mouth. Retailing at £15.95, this 1000g Panettone is excellent, well worth including on your shopping list.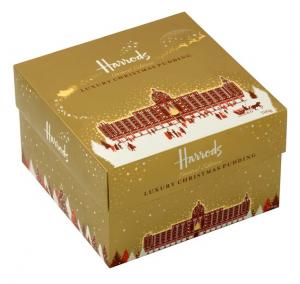 Of course we had to try the Harrods Ultimate Christmas Pudding, and it didn't disappoint at all. The Christmas pudding is seen as the crowning glory of any Christmas Day lunch or dinner, but by the time we get to dessert many of us have already eaten our fill. The Ultimate Christmas Pudding would be a great dessert to serve at your festive table, we tasted it on its own, having heated it in the microwave. Its vibrant flavours fill the mouth and have great length on the palate. This Christmas pudding would be enough to tempt anyone to a portion. It has a lovely light texture, there is great fruit content with refreshing citrus and the scotch whisky coming through. Retailing at £22.95 for a 700g pudding, this is a wonderful dessert.
For those of you going to a friend or a relative for Christmas, any of these products would make a great contribution to the Christmas meal. Indeed if you are the cook, you might consider just getting any, or all of them, we were impressed by all of these products.
For further information about Harrods Christmas range go to www.harrods.com or perhaps you should just visit the store, particularly the food halls, it's a mouth-watering experience.
Harrods, 87-135 Brompton Road, Kensington, London