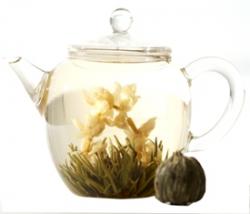 JING's range of teas extend well past the average green, white and black teas with varieties such as the fragrant Jasmine Pearls Green, Flowering Osmanthus, Yellow Gold Oolong and Organic Bohea Lapsang Supreme. JING also offers a definitive example of everyday varieties such as Organic Whole Chamomile, Dragon Well Green, Peppermint Leaf, Earl Grey Supreme, Assam Breakfast and Ceylon Black.
Having been given a JING glass Gong Fu set recently, together with a set of four teas – Assam Breakfast, Dragon Well, Silver Needle and Jasmine Pearls, I am impressed by the quality of these products. The Gong Fu set came in an attractive good quality solid card presentation case that securely held the tea pot, jug and two drinking cups, all of which are dishwasher safe. The teas are also attractively packaged in their matt gold tins and their contents each distinctive in their flavours. The Assam Breakfast Tea, full bodied and rich, with a maltiness and a slightly sharp edge, the Dragon Well, more subtle, warm flavour with a hint of mango and a nuttiness running through it, the Silver Needle by comparison is lighter and had melon and cucumber notes and finally the Jasmine, has a robust floral flavour with a very slight acidic quality to it. All four of these teas are very distinctive and lovely drinks to enjoy by yourself, or with others, they are excellent quality and given that the leaves of some of the teas can be re-infused several times (the individual packs give guidelines) they are very good value. A further testament to the quality of JING's range of teas is that we understand they can be found served at both Heston Blumenthal and Gordon Ramsay's restaurants and are the tea of choice at The Lanesborough, Aqua Kyoto and Browns.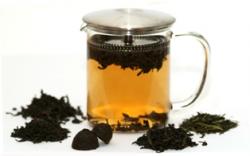 Edward Eisler, the founder of the company, is regarded, as a leading authority on tea in the UK. He began his interest in tea at the age of eight when he experimented at home with Assam, Ceylon and Lapsang Souchong teas, an interest that grew and developed over the years. Frustrated by his inability to buy great tea in the UK, Edward founded Jing Tea in 2003. His aim was to source the world's greatest teas directly from the farmers and the gardens which produce them, seeking out the finest qualities available and often, as a consequence, importing unique, single-origin teas of outstanding quality to the UK for the first time. Not only are the teas that Edward sells of the highest quality, they are also produced and packed under ethical and environmentally friendly conditions through implementation of organic, Fair Trade and ISO14001 standards.
The JING web site www.jingtea.com contains a wide range of teas including sampler packages and tea ware that are excellent quality, these JING products make great gifts for any occasion or are simply worth buying as a treat for yourself or a loved one.
JING Tea Ltd, Canterbury Court, London, SW9 6DE Tel: 020 7183 2113 www.jingtea.com