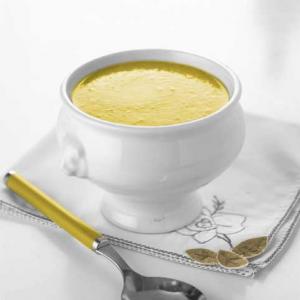 Win the opportunity of a lifetime, courtesy of Maille®, France's leading mustard producer. The prize, which will be offered to one winner and their seven guests, on all Dijon and Wholegrain jars of Maille®, is a sumptuous dinner prepared by highly acclaimed chef, author and food writer, Paul Gayler. Paul, who is the Executive Chef of The Lanesborough (one of London's finest 5 star hotels), will create the most incredible feast incorporating Maille® in each course. He will demonstrate the versatility of mustard and how, with a little bit of know how, it can be used to enhance all sorts of dishes – even desserts!
In order to be in with a chance, all you have to do is visit www.maille.co.uk and register; you'll then be automatically entered into a draw. When visiting the site, look out for additional opportunities to enter more than once! If you're not lucky enough to win the main prize, don't worry, because fifty runners up will also receive a luxurious hamper filled with Maille® merchandise and products – enough Maille to prepare your own fabulous feast.
The promotion will run in store from late November for around three months, but for those of you who fancy experimenting with Maille® in the meantime, Paul has kindly developed these exclusive recipes plus a few mustardy tips…..
BAKED SALMON WITH MAILLE® MUSTARD , LEMON AND CAPERS
4 X 170g Skinless Salmon fillets
1 tb MAILLE® Dijon mustard
1 tb honey,warmed
Juice and zest of one lemon
1 beaten egg, mixed with a little cold water
150g white breadcrumbs
2 tb olive oil
50g unsalted butter
2tb superfine capers
1tb chopped flat leaf parsley
2 lemons, peel and pith removed, cut into slices
Salt, pepper
Mix the mustard and honey together and brush liberally over the salmon fillets
Season with salt and pepper
Dip the fillets into the beaten egg, then dredge through the breadcrumbs
Heat a large non stick frying pan, add the oil, when hot lay in the salmon fillets, and cook for 3-4 minutes on each side.
Remove the cooked salmon and keep warm.
Remove any excess fat from the pan, and add the butter.
When the butter begins to foam up and turn golden, add the capers, parsley and zest and juice of the lemon.
Place the salmon on serving plates, top with the lemon slices, pour over the caper butter and serve immediately.
CELERIAC, POTATO AND MUSTARD SOUP
25 grams unsalted butter
1 onion, chopped
1 small leek, chopped
1 medium sized celeriac, peeled and chopped
2 medium sized potatoes, peeled and chopped
1 l chicken stock
100 ml double cream
1 tsp MAILLE® mustard
1 tbs chopped chives
Melt the butter in a saucepan, add the onion and leek, cover and cook on a low heat for 5 minutes until soft. Add the celeriac and potatoes and cook for a further two minutes. Pour on the chicken stock and bring to the boil, reduce the heat and simmer until the vegetables are tender. Transfer to a blender and blitz until smooth. Reheat the soup to the boil, whist in the mustard, cream and chives. Season to taste and serve.
Mustard tips:
Add a little MAILLE® Dijon mustard to a basic cheese sauce to accentuate the flavour of the sauce.
MAILLE® is delicious when mixed with a little honey and brushed on barbeque chicken or pork, great for barbeques.
Add a little MAILLE® mustard with tomato ketchup, great served with fish and chips.