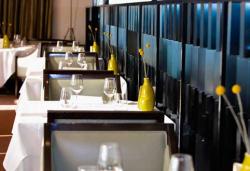 Watching over London town, Galvin at Windows is situated on the 28th floor of the prestigious London Hilton on Park Lane hotel. We enter through the swish, polished-marble interior of the hotel lobby and the lifts whoosh you up to in a matter of seconds to the top floor where Galvin's is located.
The restaurant and bar are dimly lit and the décor is luxurious but tastefully so. Luckily having secured a window table, we are free to gaze over the lights of London by night whilst nibbling on fresh bread and olives and sipping on champagne. The wait staff are all immaculately attired and refreshingly attentive, as they present us with our 'Amuse Bouche' of a dainty little glass filled with a chilled butternut squash puree and what can only be described as the most delicious egg mayonnaise I've ever had, laced with black truffle and parmesan. I can only add that it is the most comforting of comfort foods I have had in a long time. I could easily wolf down several more of these little treats and that's exactly what an 'Amuse Bouche' should be, a little treat.
Brimming with excitement, I await my starter of seared scallops with pumpkin puree, wild chicory, pomegranate, smoked bacon and maple vinaigrette. To be perfectly honest, the dish sounds like it has a lot going on and my curiosity is thus piqued to say the very least. A beautifully plated dish of delicate scallops adorned with a myriad of colour from ruby-like droplets of fresh pomegranate seeds scattered on top of big fat scallops, which were cooked to devastating perfection. A veritable overload for the senses, with the delicate sweetness of the scallops, acidity of pomegranate and light maple syrup vinaigrette all perfectly balanced to create a wonderful dish just bursting with flavour.
My main course of venison fillet with Savoy cabbage, Parmentier potatoes and a cocoa and cabernet sauvignon reduction is superb, even more so because of the addition of a wonderful miniature 'Shepherds pie' made with confit shoulder of venison topped with an elegant piping of creamy mashed potato. Very rarely do I want to cry because a dish is so good, but this is one such time – Heavenly. No more, no less. The venison is deep, rich and robustly meaty, yet moist, tender and utterly delicious. The dish seems to encapsulate the best of both culinary worlds for me… with the class and refined sophistication of the fillet of venison, paired with the more homely comfort food offering of Shepherds pie, it's a double whammy of absolutely flawless perfection. I manage to pilfer a mouthful of my companion's fillet of beef with Foie Gras, red wine braised shallots and Swiss chards, which is also very good and the beef just melts in the mouth.
At this point I am utterly stuffed, but never too stuffed to continue the experience, it must be said. We opt to share a pre-dessert cheese plate and what I do like about Galvins is that they have not abandoned the traditions of Grandeur that some restaurants seem to have dispersed these days, so when you order cheese, they wheel a huge cheese trolley your way and allow you to choose what you would like, expertly describing each one to you. The trolley displays at least a dozen different cheeses, each one exquisitely whiffy as it should be.
We (foolishly) end the meal the only way I know how, with Crème Brulee, which has a delicate flavouring of Lavender. It is ridiculously rich in a fabulously decadent way and despite my stomach begging me to exercise some kind of self-restraint, I am unable to do anything except sigh with happiness. Having polished dessert off with the speed of a Dyson vacuum, I settle back into my plush armchair and wonder how this meal could get any better. Then casting my eyes to the window, I notice it is snowing. How lovely… Who said coffee is the only way to end a meal?
Galvin at Windows are running 'The Great Galvin Giveaway" offering fantastic special offers until the end of February;