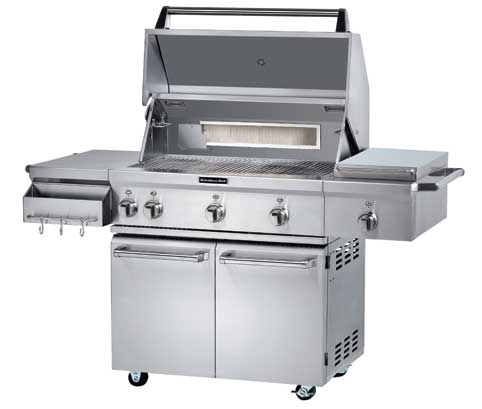 With some crazy optimists still swearing the sun is going to come out. why not consider investing over £2000 on a BBQ from Kitchen Aid?
Yes okay it's a mad amount of money, but Kitchen Aid do make rather swanky products and this could be the ultimate alfresco appliance to drive the neighbours wild with envy.
The new KSOX 9020 Barbeque is flash, as the makers say –
'Inspired by professional chefs, the Barbeque delivers the latest technology to significantly improve cooking performance, flexibility and ease of use.
The central cooking area is assisted by the Even-Heat™ System. This consists of three 6,6Kw stainless steel u-shape burners and a special grid design, which provides reliable cooking results thanks to a uniform temperature across the entire surface.
To impress the guests, the Barbeque also boasts a Rotisserie Burner Accessory. Long enough to fit a large chicken along the length of the skewer, it's the perfect accessory for satisfying hungry friends. The KitchenAid® Barbeque also has a 4,4Kw Side Burner to allow for the preparation of side dishes at a lower temperature. It's perfect for grilling corn on the cob or toasting buns.
Additionally, there is the Flare-up Management System which reduces flare-ups, and singed eyebrows, by effectively channeling oils and grease away from the burner.
Inspired by professional chefs, the KSOX 9020 Barbeque is made from high quality and robust stainless steel, making it weather resistant for use all year-round. It has a baking lid with built-in mechanical thermometer, so when the lid is closed it senses the temperature as if it were an oven. It also features a convenient trolley. What more could you ask for?
For further information contact the Consumer Helpline Number on 0800 988 1266 or visit www.kitchenaid.co.uk
DID YOU KNOW?*
Barbeque the American way
There are four major regional barbeque styles in America; Memphis, Carolina, Kansas City and Texas
Memphis
RIBS
Memphis barbecue is primarily ribs, which come "wet" and "dry". Wet ribs are brushed with sauce before and after cooking, and dry ribs are seasoned with a dry rub. Pulled pork, from the shoulder, is also popular, which is served smothered in a hot, sweet, tomato based sauce.
Carolina
WHOLE HOG
The Carolinas use mainly pork, both pulled and ribs, marinated in a peppery vinegar sauce before smoking. The pulled pork differs from Memphis pulled pork in that the whole hog is used in the Carolinas.
Kansas City
SAUCE
In Kansas City they cook all kinds of meat, but the signature ingredient is the sauce. The meat is smoked with a dry rub, and the sauce served as a table sauce. Kansas City style sauce is thick and sweet based on tomatoes and molasses.
Texas
FOUR STYLES
East Texas is primarily pork-based, with cuts such as pork shoulder and pork ribs, indirectly slow smoked. The sauce is tomato-based, sweet, and thick.
Central Texas is smoked leftover cuts of pork and beef, often with high heat, Traditionally this barbecue is served without sauce, and with no sides other than saltine crackers, pickles, and onions.
West Texas barbecue, sometimes also called "cowboy style", uses a more direct heat method that other styles. They cook pork, beef, goat and mutton.
South Texas barbecue style is mostly influenced by Mexican tastes. It is the cow's head which defines South Texas barbecue, called barbacoa. They'd wrap the head in wet maguey leaves and bury it in a pit with hot coals for several hours, and then pull off the meat to make barbacoa tacos.